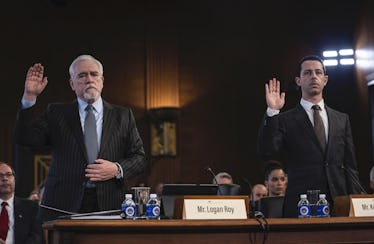 15 Emmy-Nominated Dramas To Watch Before The Awards Show
HBO
The Primetime Emmys annual awards presentation is sure to be one for the history books. Unlike the Golden Globes and Oscars, which run on a January-December schedule, the Emmys run June-May, following the old schedule of a television season. This meant the Television Academy moving its awards show to accommodate the current coronavirus pandemic was not as feasible as it might be for other awards-slinging organizations. Instead, the Emmys will be virtual this year. But the shows they celebrate aren't any less fantastic. These 2020 Emmy-nominated drama series are some of television's best offerings from the last year and so worth checking out.
Unfortunately, the Emmy drama category does not have the limited series nominations turnover, which is comprised of one-and-done shows. But it does have some more play than the comedy nominations, which remain mostly stagnant year-to-year unless an Emmy darling goes off the air. That makes the drama group a category that's a mix of brand new shows and returning favorites, and one of the few places where the Emmys can genuinely surprise industry watchers with their choices.
This year is no exception. Some nominations are for shows that have been garnering nods since 2011; others have earned spots for the first time. All are worth binging ahead of the Primetime Emmys ceremony on Sept. 20.