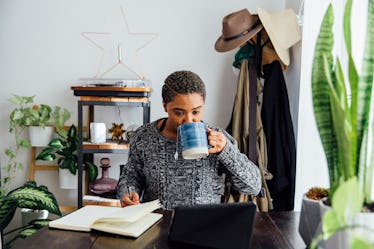 13 People Reveal How They Jump-Start Their Day Before Work & I'm Ready For Adulthood
Post-grad life can be a little terrifying to navigate, but when you score your very first "real person" job after college, it's the best feeling ever. All of those late-night studying sessions and double espressos to the face finally paid off. However, it also means you have to be a functioning human being between the hours of about 9 a.m. and 5 p.m. — every single day. It's an adjustment, for sure, but finding things to jump-start your day at your first job isn't impossible, and it's totally worth putting the effort in. After all, there's nothing like a solid morning routine to perk you up before starting your day.
Getting motivated for the day ahead is key to feeling your best when you step into the office, and even for avoiding burnout down the road — and that holds true, regardless of whether you're about to start your first real job after graduating from college, or really, at any stage in your career. Starting your day with positive energy will help you tackle any tasks or challenges you're faced with at work, even if everything feels totally new and scary to you.
If you're not sure how to jump-start your day in a way that works for you, read on for a few tips from people who've figured out what makes them actually want to greet the day when that annoying alarm goes off each morning.