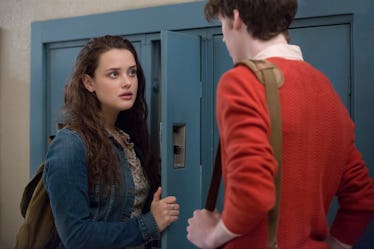 '13 Reasons Why' Season 3 Is Officially Happening, So Keep The Theories Coming
Beth Dubber/Netflix
In case you had any doubt that one of Netflix's most popular original series would be returning, now there's concrete confirmation. Breathe a sigh of relief, fans: 13 Reasons Why Season 3 is officially happening. On the heels of May's Season 2 release, the streaming giant just announced a third season of the successful YA adaptation is definitely a-go. As expected, the creative powers over at Netflix couldn't just say the show was greenlit for more —they needed to provide audiences with a teaser.
Netflix's 28-second clip shows a close-up of a locker being opened and a paper bag being retreived from it, before closing to reveal a number 3. "13 Reasons Why, Season 3, Coming 2019," the announcement reads.
Season 3 isn't exactly shocking news, considering the show's future has been discussed over the past few months. Showrunner Brian Yorkey hinted at the possibility of more episodes, telling The Hollywood Reporter,
I always think there's more story to tell, but I think that depends on viewers and everyone's reaction to it and whether it's important to keep telling the story. I do think that our interest in a second season was because we wanted to continue to follow these people. If there is a future for the show, to me, it's about these characters, and not necessarily a new set of reasons or a new set of tapes.
One element of the third season that's for certain: 13 Reason's Why is letting go of Hannah Baker. Katherine Langford, the actress behind the character whose tragic suicide was at the center of Season 1 and to a degree Season 2, is leaving the series.
"For me, we told Hannah's story so fully in Season 1," Langford explained to EW. "In a way, doing that scene in episode 13 [of Season 2], I've so often referred to it as it was the hardest scene because it's the scene where I had to let her go. I think coming back this season was challenging because it was playing her but not really her."
"It definitely felt like time. For me, letting Hannah go was in Season 1; Season 2 was for Clay to let her go. It was being able to assist Clay on that journey as Hannah and let Clay have his moment to let Hannah go," she added.
Langford posted an Instagram photo on May 25 expressing her love and gratitude for the series. "This show will always be a special part of my life, and regardless of whether Hannah is there or not, I know that I will continue to strive to do work that is meaningful and has a positive impact," a portion of her caption read.
When it comes to what to expect, Yorkey has stated that "what happened to Hannah will always be the first clause of the story." But that opens the door to so much more. Yorkey explained,
The rest of the story is about young people, as so many young people, maybe all young people today (learn) how to heal from the things that have hurt them…to make the world that they want it to be, not just the world they are inheriting… and above all, how to take care of each other.
Yorkey will indeed return as showrunner for the next installment for 13 Reasons and although there have been no further casting confirmations (stars Alisha Boe and Christian Navarro already tweeted Netflix's Season 3 announcment), it seems likely that many of the main characters will come back. Production is set to begin later this year. The 13-episode third season will make its Netflix debut sometime in 2019, which means fans have plenty of time to speculate and theorize about what's to come.