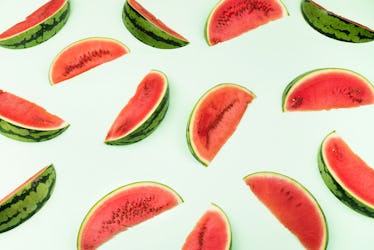 13 Myths About Healthy Eating That Only Sound True, But Are Just Plain False
Healthy eating can be exhausting. And by that, I don't mean the eating or planning itself, as much as I mean the nonstop and often brutally intense conversations people tend to push on you about what healthy eating means to them. For every one truth that someone throws at you, there are about 10 more myths about healthy eating that someone's trying to peddle as facts.
Here's the real fact: Being healthy with your diet is one of the most personal and fluid aspects of your life. There is no one-size-fits-all approach for the correct way to fuel your body, so much as there are various suggestions and pointers for how you can pick and choose from each food group, portion properly, and give your body the energy it needs —and deserves — to thrive and move forward each day.
I like to look at healthy eating as something of a journey or a process, one that teaches you something new each and every day. But what's truly important is being able to distinguish facts from myths, so that when someone taps you on the shoulder during your morning commute and demands you take out your headphones so they can preach to you about their juice cleanse, you can have the ability to smile through a (hopefully) friendly debate about what's really true, and what's just plain false.
Here are 13 myths about healthy eating that should have been debunked a long freaking time ago.