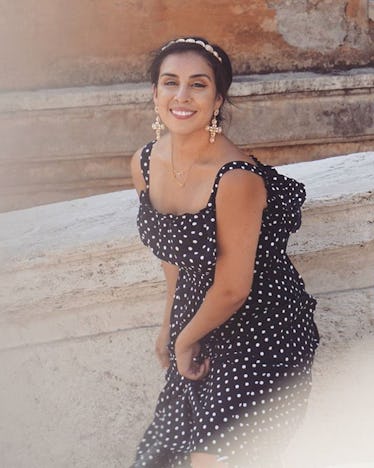 I Wear Statement Earrings To Disguise Bad Hair Days & It's Actually Genius
Stephanie Montes
I've had my ears pierced since I was a baby — I think I even got them done at the hospital I was born in. But despite having permanent holes in my ears, I rarely wear earrings. I love nothing more than a curated ear stack, but I just never really got in the habit of wearing a set and keeping them on (especially because sleeping in them hurts). Instead of keeping a pair of studs in my ears, I got into swapping out different summer statement earrings for different hairstyles, outfits, and vacations.
My obsession with statement earrings first started when I packed for my honeymoon in Italy. I carefully picked out every outfit (accessories and all) based on the activity I was doing that day. I packed a pasta-print dress to wear to a pasta-making class and Dolce & Gabbana-inspired cross earrings for the Vatican. I even dreamed up every hairstyle and makeup look to go with each outfit, but the weather threw my plans completely off track. The day after we arrived in Venice, temperatures hit record-breaking highs. There was literally no escape from the heat — it was sweltering, even in the shade, and air conditioning in Europe lacks some serious cooling power.
No matter what grand ideas I had about my Italian vacation looks, I had no choice but to tie my hair back and wear barely any makeup. The only thing I had to make me look somewhat pulled together were my statement earrings. That's when it all made sense to me: When you're having a bad hair day, the kind where no amount of dry shampoo or hairspray can help you, what you need is a distraction.
I don't have a cure for bad hair days (well, I have some, but that's a different story for a different day), but I do have some suggestions for some really cute statement earrings that serve as a fabulous distraction. So, put your hair in a ponytail, slip on sime chandelier earrings, and handle your business.
BaubleBar Sebastian Drop Earrings ($42; baublebar.com)
I mean, pink lobsters hanging off your ears? You could be wearing a wig, and nobody would ever notice your hair!
Jennifer Loiselle Flower Drop Earrings ($26; bando.com)
Meet the perfect addition to any white summer dress.
A New Day Pom Pom Earrings ($8; target.com)
Just the perfect amount of dainty and fiesta.
Glamorous Beaded Statement Earrings ($19; asos.com)
Headed to a tropical vacation this summer? If so, you need these earrings. If not, you still need these earrings.
Beaded Matching Earrings ($20; zara.com)
A bold design in an eye catching color, talk about a show stopper. What bad hair day?
Baublebar Fantasia Drop Earring ($48; baublebar.com)
You could say I'm tickled pink by these adorable flamingo earrings.
Long Earrings ($18; hm.com)
Whether you're headed to a beach wedding, or you're just looking to spice up a simple white tee and jeans, these are the earrings for you.
Asos Design Statement Tassel Fan Earrings (10; asos.com)
Did I mention your outfit might not matter either? These earrings are that good!
Mojito Hoop Earrings ($38; baublebar.com)
It's like vacation in a hoop earring.
Pom Pom Earrings ($15; hm.com)
Between the metallic and neon pom poms, these earrings are the epitome of summer.
Sugarfix by BaubleBar Hoop with Tassels Earrings ($9; target.com)
Who said black is basic? I know I didn't!
Wooden Drop Hoop Earrings ($7, forever21.com)
A little bit '70s and a little bit tribal — a whole lot of bad hair day-masking power.