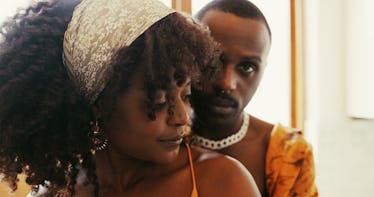 These 12 Scents Can Help Turn Your Capricorn Partner All The Way On
Delmaine Donson/E+/Getty Images
Timothée Chalamet, DaBaby, Michelle Obama — Capricorns just ooze confidence. They're smart, hardworking, and thoughtful, which is likely what drew you to them in the first place. They're also a sensual earth sign that loves when you play to their senses. That's why knowing what scents turn on a Capricorn can help make your sex life 10 degrees hotter. From perfumes, to candles, to body oils, there are plenty of fragrant options that'll get your Cap all riled up.
On my quest to understand astrological arousal, I reached out to Diana Rose, a professional astrologer and tarot reader. Rose says you'd ideally look to someone's Venus sign to learn what turns them on, so the following recommendations can work if your partner has a Capricorn sun sign, rising sign, or Venus sign. She suggests opting for classic, reserved smells, derived from natural materials.
"Earthy, botanical scent notes, like vetiver and well-aged patchouli, are good ones to look out for," Rose tells Elite Daily. "As well as any of the scented woods, such as cedar, juniper, sandalwood, and oakwood." Generally speaking, "masculine" fragrances are more appealing to Capricorn, but if you're more comfortable with a traditionally "feminine" scent, Rose suggests small doses of rose, jasmine and gardenia. "Sweet or gourmand scents aren't generally Capricorn's cup of tea, so stay away from anything that makes you smell like a cupcake." With that in mind, here are some sultry aromatic tools to get your partner going.
We only include products that have been independently selected by Elite Daily's editorial team. However, we may receive a portion of sales if you purchase a product through a link in this article.