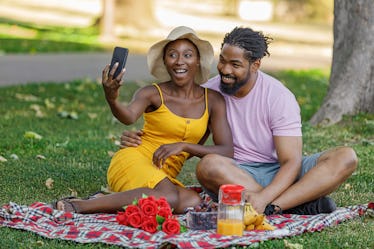 12 Scents That'll Seriously Turn On Your Aries Lover
Professional Studio/E+/Getty Images
If you're dating or hooking up with the sign of the ram, you know they're passionate about all life has to offer, and sex is no exception. The scents that'll turn on Aries match their boldness and lust for life. Astrologer Susan Miller told Cosmopolitan UK that citrus scents match well with Aries' vibe. The same goes for floral scents — a nod to Aries season (March 21 - April 19) and Spring, when flowers start to bloom.
"When it comes to choosing a fragrance, Aries likes to stay alert and on their A-game," Miller told Cosmopolitan UK. "Citrus is known to stimulate the senses, as well as the mind." Candles, perfume, and body products that are lemon-scented or grapefruit-scented are a win.
Miller adds that all flowers with thorns are ruled by Aries, so products that smell like honeysuckle, frankincense, myrrh, jasmine and geranium are great picks, too. Bio alchemist and aromatherapist Michelle Gagnon noted to ELLE Decor that frankincense helps soothe the mind and can calm the "the tendencies of aggression and short-tempered action which the Aries can be prone to."
Along with frankincense, specialists from FlowerSchool NY also recommend black pepper, neroli, and clove. With these ingredients in mind, here are some products that can help get your Aries partner in a sexy mood.
We only include products that have been independently selected by Elite Daily's editorial team. However, we may receive a portion of sales if you purchase a product through a link in this article.