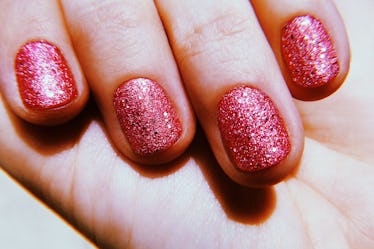 These Minimalist Nail Art Ideas Are Simple, But Still Help You Make A Statement
Guys, I have a confession to make: Since middle school, 90% of my nail salon visits have ended with my nails coated in my go-to shiny red polish. I'm a self-proclaimed lover of trying new things, but it seems every trip to the nail salon brought out some hidden, genetic stubbornness in me I thought (hoped) would skip a generation. (Love you, mom.) Only recently did this seemingly unbreakable habit of mine change. Classic red polish still holds a special place in my beauty-loving heart, but I've been experimenting with new nail looks, thanks to all the inspiration from talented nail artists popping up on my Insta feed.
Many nail artists are using really cool methods — frequently playing with negative space, strategically placing embellishments, and using understated hues — to create beautifully minimalist statement nails. I know it may sound contradictory to call a look both minimalist and a statement, but these nails prove that, with some creativity and out-of-the-box thinking, you can rock a look that's simple and bold at the same time. Grab a nail file or make an appointment at your nearest nail salon, because you'll want to try these designs ASAP, and you'll definitely want to give these nail artists a follow.