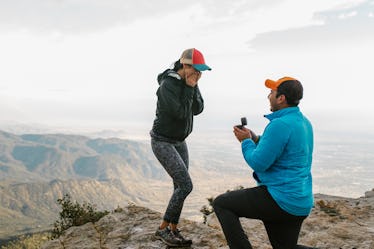 12 Men Reveal How They Knew They Wanted To Propose To Their GFs & I'm Melting
When you think about proposals, you likely imagine the big moment when it actually happens. I'm talking about the knee, the ring, and all the happy tears. But what about the moment that comes before it, when he actually makes the decision to pop the question? What does that private, but equally special, moment look like? What was the thing that finally made it click that their current partner was "the one?" It turns out I'm not the only one who's curious about this romantic tipping point, as dozens of men reveal why they proposed on Reddit.
While the stereotype that men are afraid of commitment and marriage persists, the stories they share here about knowing they've found the one may just change your mind entirely. For some, there is a big life-changing moment that makes them finally realize it's time to tie the knot, while for others it's more of a gradual process of realizing their parter was their perfect fit and they didn't want them to slip away. So grab some tissues, because what these fellas had to say about the women they love and went on to marry is going to melt your heart and maybe even make you bust a tear.
This article was originally published on