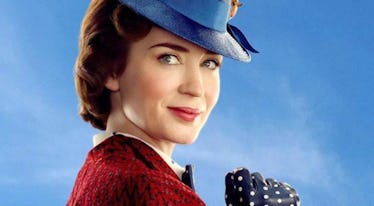 12 Easter Eggs In 'Mary Poppins Returns' That Will Make You Feel Like A Kid Again
Disney
The Disney universe may only have taken the plunge into the world of sequels with the arrival of Mary Poppins Returns, but the company that owns the Marvel Cinematic Universe and Lucasfilm has learned a thing or two about planting callbacks into a film, and how important it is to fans to find them all. The world of Number 17, Cherry Tree Lane may have changed in the 20 years between Mary Poppins' visits, but these easter eggs in Mary Poppins Returns prove nothing really ever changes, children just grow older.
The biggest callbacks, of course, are the castings. Julie Andrews declined to take a cameo, as she felt Emily Blunt shouldn't have to deal with the comparisons. But Dick Van Dyke is still there, as is the original Jane Banks. In the new film, grown-up Jane is played by Emily Mortimer. But Karen Dotrice, who played the original version back in 1964, also appears in the new movie. Keep an eye out for her — she plays an "Elegant Lady." Mary Poppins would be very pleased with how she turned out.
So, where have you seen these characters before? Or why does that prop seem so familiar? Let's run down all the callbacks and easter eggs tucked away in Mary Poppins Returns.