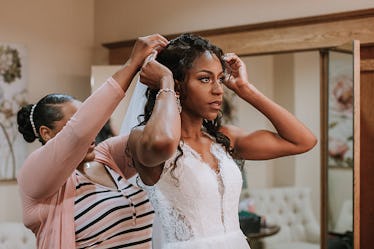 11 Little Things That Can Ruin Your Bestie's Wedding, So Listen Up, Bridesmaids
On your best friend's wedding day, she's going to be the happiest you have ever seen her. She'll have a natural glow that'll literally light her way down the aisle and towards this forever person in her life. It will be a beautiful moment, but that's only if you help your girl deflect situations that could put a damper on her day. You may think you know most things that can ruin your best friend's wedding, but you don't want to overlook a tiny fiasco in the making.
Whether you're a bridesmaid or a maid of honor, you owe a helping hand to your girl from start to finish. You've been there for the whole process. You remember when the happy couple just started dating, when the question was popped, and when your bestie said "yes" to the dress. Now, you've got to make sure the big day isn't soiled by any unnecessary drama.
Make sure you're fully on board to support your girl, because you don't want to give her any added stress. There's no such thing as "perfect," and something small like a meal or two getting mixed up is bound to happen. You can control these 11 things, though, and ensure that your bestie doesn't have to worry about them crashing her wedding.