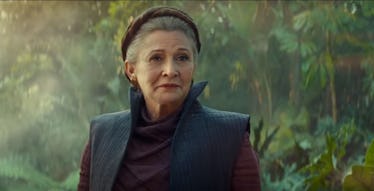 11 Easter Eggs In 'Star Wars: The Rise Of Skywalker' That'll Make You Cry For Weeks
Lucafilm
Star Wars: The Rise of Skywalker wraps up 42 years of Star Wars storytelling in a single 142-minute film. That's a lot of ends to tie up all at once, since the film not only ends the current "Age of Resistance" trilogy of movies, it also ends the entire "Skywalker Saga" trilogy of trilogies. It's no surprise the film is filled with callbacks and Easter eggs galore. The Easter eggs in Star Wars: The Rise Of Skywalker are so plentiful, it may take until the DVD version is released for fans to find them all.
Warning: Spoilers for Star Wars: The Rise of Skywalker follow.
The biggest "Easter egg," if one can call it that, is Leia. Carrie Fisher passed away at the end of 2016 — before filming for this final movie could begin. And yet, she appears in several scenes, digitally transferred in from unused footage from 2015's Star Wars: The Force Awakens. Every single line she utters, every movement she makes, and every scene she appears in is reference to the cut plotline from the original Episode VII. It's a reminder of all the scenes that never made it to theaters that director J.J. Abrams shot.
But that's just the beginning.