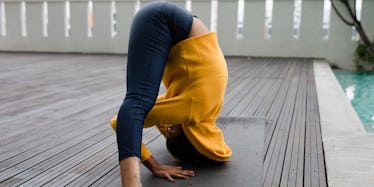 When You're Too Sore To Function After A Workout, These 10 Yoga Poses Will Soothe You
Just about every single person I know who works out is familiar with the feeling of being so unbelievably sore after a trip to the gym that the mere act of standing seems like it might just be impossible. Yes, maybe this is a bit of an exaggeration, but the feeling of achey, pulsing, inflamed muscles working hard to repair themselves is no joke, my friends. So when you're looking for ways to relieve that pain, try rolling out your mat and flowing through some yoga poses for sore muscles. Pretty soon, you'll return to an ache-free, functional version of yourself that does have the energy not just to stand up, but to also complain about how sore you are to anyone who will listen (come on, you know I'm right).
Yoga combines deep, expansive breathing with slow, intentional stretching, which is basically everything your muscles are looking for after a challenging workout. And luckily, there are so many different asanas in yoga that target all different parts of the body, meaning you'll be able to focus on specific muscles that feel especially achey, and give them some extra lovin' and gentle attention.
The next time you hit up your favorite workout class or conquer yet another excruciatingly satisfying leg day, try moving through these 10 yoga poses after you're done to help your muscles recover, loosen up, and enjoy some sweet relief from all the work they've been doing.