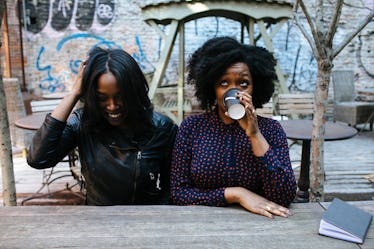 10 Weird Things That Make You Happy, Even When You're Having The Absolute Worst Day
So you're having the worst day of your life. It happens. We all end up in the pits on some days, but that doesn't mean you have to stay there for the rest of the day. Of course, it's not always easy to get yourself out of the downward spiral that a bad mood can lead you into. But there are tips and hacks for turning your bad mood around. There are so many weird things that can make you happy, it's almost overwhelming to decide which route to take.
We tend to associate good moods with specific moments, or certain events. Someone might consider their weekly run around the park to be their "happy time," while another person thinks a 10-hour Netflix marathon is the ultimate form of relaxation.
Neither of these are wrong, as long as it's what makes you happy. The point is, there's an advantage to learning how to make yourself happy in any situation, like when you're stuck on a crowded subway, or spending the weekend with your least favorite in-laws. You can't always be in the place you want or with the company you love, but you can figure out little ways to keep yourself happy in spite of the negative vibes that may surround you. Here are 10 weird ways to make yourself happy, even when you're in a sh*tty mood.