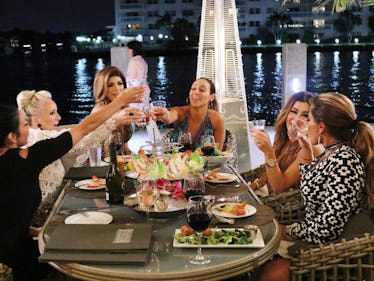 10 Shows Like 'Jersey Shore' That Are Perfect For Your Reality TV Addiction
Bravo
The premiere of Jersey Shore kicked off an era of shameless excess in reality TV, which, on MTV, was fairly tame beforehand thanks to calmer shows like The Hills and True Life. Watching the craziness of the Jersey Shore cast was a reminder that, whether you like it or not, our brains just need silly reality (or something close to it) to relax every once in a while. To celebrate the return of that special TV formula via Jersey Shore Family Vacation, we've listed 10 shows like Jersey Shore that are perfect for your reality TV binge-watching needs.
While watching women flip over tables or men get into heated arguments at clubs can be highly satisfying, Jersey Shore also allowed for real conversations about life to thrive on TV. You can't have the drama without the heartrendingly realness, so these suggestions include both the insane and insightful in the reality TV world. One should be able to enjoy bickering housewives just as much as they love British bakeoffs, right?
With my wine in hand, I'm totally ready for a reality TV marathon of these picks, but the streaming possibilities of this genre are endless. What reality shows are your favorite guilty pleasures?