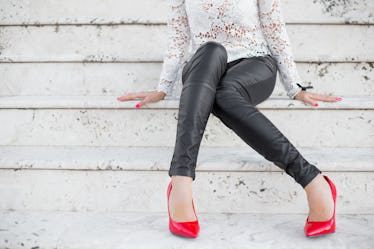 From Lace-Up Ties To Red Leather, These Are The Sexiest Leggings On Amazon
Leggings may have started out as workout attire, but thanks to how versatile and comfortable they are, they're now considered pants in their own right. If you're in the market for a fashionable pair that extends past the standard black, plain design, the internet has plenty to choose from. The large selection of sexy leggings on Amazon, for example, is certainly worth looking through when considering your next pair.
Finding a great pair of sexy leggings is largely about personal preference, and you should absolutely choose what makes you feel confident and comfortable. However, there are a few tips that could likely make the process much easier. For starters, it may help to select a pair with plenty of stretch to ensure maximum comfort and flexibility — especially if you plan to use them while working out. Having something with a high percentage of elasticity will allow you to move more freely during your exercise routine. You may also want to find leggings that are able to pass the "squat test," meaning that they don't become see-through when you bend over or squat down.
Should you decide to wear your leggings to work or out on the town, you may want to opt for something thicker (and perhaps fancier) than the standard spandex-lycra blend. Stepping into a pair made with faux leather or lace inserts will help to instantly change your look from fitness to fashion.
Whether you plan to run errands, hit a cycling session, or pair them with your favorite blouse for happy hour, the options for sexy leggings on Amazon are seemingly endless. Here are 10 highly-rated picks that reviewers love.