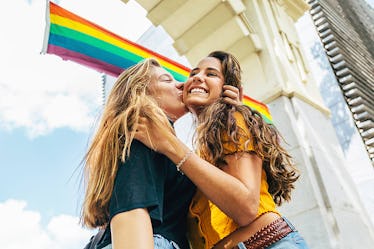 10 Queer Women Reveal Where They Go To Meet Women, & It's Really Great Advice
While dating apps have made finding that special someone easier and more accessible than ever, it still feels pretty impossible for most of us from time to time. I'm a straight cisgender woman, so I can only speak from my own experience, but before I got into my first relationship at 23 years old, I constantly found myself wondering why it was so incredibly hard to find someone who actually wanted something real. And apparently, I'm not the only one who faced this issue. A recent Reddit AskWomen thread prompted queer women to reveal where they go to meet women, because, well, meeting people is hard!
While looking for love for anyone in this generation can prove to be difficult, women responding to the thread revealed looking for love with a woman as a queer or bisexual person comes with some of its own unique challenges.
"I tried to use apps, to no avail," wrote mysecretoutlet. "Don't have many friends who are active in the LGBT community to go for nights out/specific bisexual social events etc. I have no sense of 'gaydar' and everyone I find attractive tends to not be into girls as far as I'm aware. Currently in a relationship with a guy anyway."
"I'm not in a relationship with anyone atm," added Throwaway899365. "But guys are easier for me because it's easy to assume most guys that talk to me want a date. Women on the other hand are harder to read."
Other users found a sense of solidarity in the fact that there were other women out there who shared their struggle. "It's definitely nice to know (gay or bi) other women are having a hard time meeting other quality, genuine women to date," sben11 wrote.
Well, ladies, luckily there were other women on the thread who had plenty of great tips for queer women looking to find the one. Read along and take note.