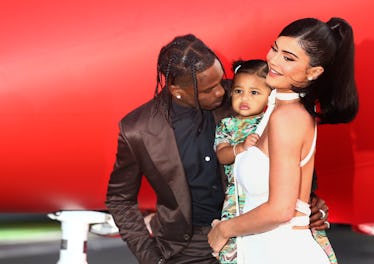 10 Photos Of Kylie & Stormi Twinning That Will Brighten Your Day
Tommaso Boddi/Getty Images Entertainment/Getty Images
Kylie Jenner's life completely changed the day her daughter, Stormi, was born. Since then, Jenner has embraced motherhood in all the ways possible and doesn't miss a moment to make memories with her little girl. Whether they're lounging around at home watching movies or island hopping, Jenner loves matching her clothes with Stormi's outfits, and the outcome is always adorable. These 10 photos of Kylie Jenner and Stormi twinning are the absolute cutest.
It's no surprise Jenner is a fan of dressing like her daughter. From throwback pictures of Jenner and her mom, Kris Jenner, the momager was the same way with her daughters. Even as adults, Kylie and her siblings are known to dress alike at times, especially for family Christmas cards. Not to mention, Kylie is a style icon in her own right, so she obviously plans to pass down her passion for fashion to Stormi.
Kylie began the tradition with Stormi when she was so tiny, and as the tot's grown, so have the amount she's twinned so hard with her mom. Holidays, vacations, family parties, and outings to Travis Scott concerts, — all are fair game for matching from head to toe. Kylie literally goes all in with the details, too, making sure they both accessorize the same way.
Scroll down to see 10 of Kylie and Stormi's cutest twinning moments.