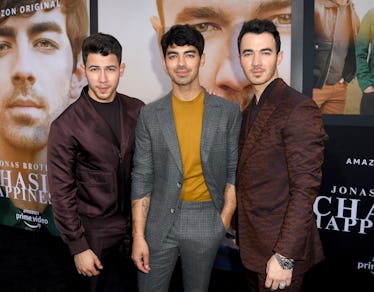 10 Jonas Brother Videos To Watch After 'Chasing Happiness'
Kevin Winter/Getty Images Entertainment/Getty Images
Keep calm, but the Jonas Brothers documentary has officially hit Amazon Prime. Chasing Happiness launched on the streaming service on June 4, and given the June 7 release of the band's new album Happiness Begins, this is a week worth burnin' up for. Exploring the brothers' childhoods in New Jersey and their rise to fame, the documentary is bound to leave fans feeling nostalgic. It's only natural to drive down memory lane and watch these Jonas Brothers videos after sitting through one or two viewings of Chasing Happiness.
If you were of a certain age during the Jonas Brothers' heyday in the mid-to-late 2000s, chances are that you have a near-perfect memory of most of their music videos. These ran seemingly endlessly on Disney Channel in a time before YouTube was practically the only place to see full music videos. I know I'm instantly transported to being 13 years old when "Lovebug" or "S.O.S" pops up in my recommended videos section, so I can't be the only Jo Bro fan who's using this documentary premiere as a chance to revisit my youth. In addition to recapping Kevin, Joe, and Nick's childhoods and professionals beginnings, Chasing Happiness details their 2013 split and the recent decision to come back together as a band.
Whether you love the band's early covers or their most recent hits, here's to rediscovering an old favorite among the videos below.