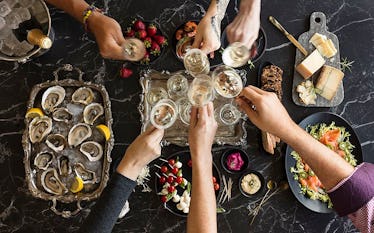 10 Thoughtful Christmas Gifts For Your Partner's Parents That Aren't Super Lame
The holidays can be a big stressor for couples. If you're in a serious long-term relationship, then you not only have to get each other gifts, but you have to get gifts for your partner's parents, too. Trying to make a good impression through gift giving is an intimidating task. You don't want to give them something generic that they won't appreciate, nor do you want to present them with a distinct gift that might be charming, but you know they won't use it.
Don't worry. Generations of partners have come before you who are just as intimidated by the thought of getting their partner's parents to love them. The trick to impressing the potential in-laws is to get them something they never would have given themselves, but that will improve their home, kitchen, or daily life. Because at the end of the day, parents are really just like us: overgrown children who still love their toys, even when their toys serve a more utilitarian function now that they are older.
So here are some gift ideas that your boyfriend's parents will actually appreciate.
If your partner's parents love to spend time in their backyard or sitting out on their patio, this is an amazing and thoughtful gift that will fit right into their lifestyle. Plus, you can have some bonding time when you help them figure out how to set it up. The speaker is even solar powered, so they don't have to worry about charging it. If the cost is prohibitive, you can split it with your partner. It's a win-win.
If your partner's parents are big whiskey drinkers, then this sophisticated and affordable glass tumbler set will be the perfect gift to grace their bar. You can pair the gift with a nice bottle of scotch or even a cocktail shaker. Voila! Drinking is the gift that keeps on giving all year.
This is an amazing gift idea for folks who love purchasing kombucha at the grocery store but are intimidated by taking on the fermentation process on their own. The step-by-step instructions are written for newbies, and the kit even includes instructions for a variety of flavors.
My family has been giving one another these panini makers for years, and even for someone who doesn't do a ton of cooking, I have to say that it's a super handy thing to have in your kitchen. Making hot and delicious gourmet sandwiches is a fun way to experiment with your fridge leftovers during the cold winter months, and you can use the press to grill meat, too. Just have your partner check their parents' cupboards to make sure they don't have a George Foreman grill already.
If your partner's parents are commuters, they'll love these noise canceling headphones when they take the bus or the train. Maybe the two of you can even collaborate on a Spotify playlist to keep them grooving. Parents love staying relevant — you and your partner can help them and get closer in the process.
Don't ask me why, but moms totally love multi-tool sets. Dads, too. I don't know what they use them for, but I definitely know that it will be a hit if your partner's parents like to be handy around the house. Plus, this set is less expensive than any other I've seen before.
If your partner's parents love spending time in front of their fireplace, consider getting them a new fancy fireplace set. Little did I know that a fireplace can come with way more accessories than just a plain, old poker. You can even have your partner get them an ash bucket and make it a couple's present! Obviously, this gift only makes sense if they actually have a wood-burning fireplace, so be sure to check in with your partner first.
If your partner's parents are one of those couples who love to deck out their house in holiday decorations, getting them a nice, unique wreath is a beautiful way to contribute to their holiday season — particularly if you're getting together with them in the days leading up to Christmas. Personally, I'm not that into holiday decorations but even I think this stag is undeniably cool.
Do you know that you're doing a gift swap with a couple of gardeners? Folks can feel deprived of their garden during the holiday season, so this is the perfect opportunity to introduce them to terrarium gardening. This is an ideal gift if your partner's parents already have an indoor greenhouse. Even if they're beginners, you can pair it with a terrarium starter kit, which is also widely available on Amazon.
This gift is definitely on the pricier side, so you should consider splitting it with your partner. If the two of you can afford it, Turntable Kitchen will send your partner's parents a vinyl, a digital mixtape, and accompanying recipes they can prepare while listening to the music. It's an extremely thoughtful gift that will encourage your partner's parents to spend time together — and a perfect segue into suggesting that you help them cook.
Whatever you decide to get your partner's parents this year, remember that you will make the best impression just by being yourself. Gifts are a generous and considerate way to show someone that you care, but at the end of the day, your presence at their holiday gathering alone is the best way to win their favor for the rest of this year and the ones to come.
Check out the entire Gen Why series and other videos on Facebook and the Bustle app across Apple TV, Roku, and Amazon Fire TV.
Check out the "Best of Elite Daily" stream in the Bustle App for more stories just like this!