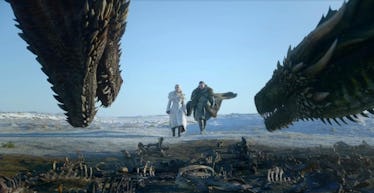 10 'Game Of Thrones' Phrases You Should Know Before The Season 8 Premiere
HBO
The final season of Game of Thrones is fast approaching, and that means only one thing: It's time to recap. It's been almost two full years since Game of Thrones last aired, and the audience any show that's been gone for that long would probably require a little bit of refreshing. But when that show is Game of Thrones, there's quite a bit of info to remember. This is the show with approximately a bajillion characters, after all, and with each one of those characters comes an intense backstory filled with countless pieces of history and terms that only the most diehard of fans can totally remember. Most of us haven't been studying up on the series for the last two years though, and for those folks, there are 10 Game of Thrones phrases that are necessary to make it through Season 8.
In a recent interview with Entertainment Weekly, Game of Thrones showrunners David Benioff and Dan Weiss spoke about the final season of their show, talking about their optimism that fans will be happy with the ending of the series. Benioff said:
From the beginning, we've talked about how the show would end. A good story isn't a good story if you have a bad ending. Of course we worry. It's also part of the fun of any show that people love arguing about it.
The truth is, no matter what the ending is, fans will find something to debate. And when those inevitable Game of Thrones conversations happen, you'll need to be able to talk to talk with these key Game of Thrones phrases. Whether you've been watching from the beginning or you're just jumping in for the series finale, these phrases will make you sound like you could sit on the throne yourself.