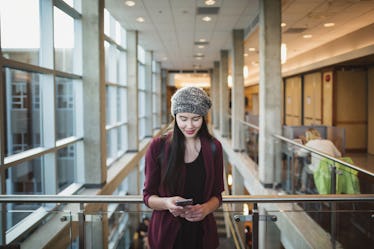 10 Flirty Texts To Send Your Old Hookup Buddy Now That You're Back On Campus
The phrase "back to school" evokes memories of begging my mom for a specific on-trend backpack, getting new clothes and daydreaming about striding back into class a newer, hotter, and better me. But returning to college ups the ante to new levels of scrambling for your ideal schedule, finding the best dorm or apartment, and striding onto campus a newer, hotter and better you. It's time to crack the books and also time to come up with some flirty texts to send your hookup buddy, now that you're both on the quad.
In case your FWB has a case of summer brain and might not recall with acuity your dopeness, sexiness, and all the good times you two had, all you have to do is fire off a text or two to jog their memory. So whether you're a little more conservative with your flirting style, aren't sure if your former FWB is still single, or love to get right to the point, we've got you covered (so you can get uncovered). Here are a few ideas to reconnect with your hookup homie, show off your sext-iness, and literally start your new college year off with a bang.