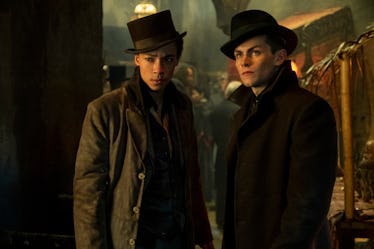 10 Differences Between Netflix's 'Shadow And Bone' & The Books It's Based On
Netflix
CGI has made it so fantasy series can create magic that was once limited to the page or animation. But even so, sticking faithfully to the novel isn't easy. Case in point: Netflix's new Shadow and Bone adaptation, which starts changing things up from the first scene. In fact, the differences between Netflix's Shadow and Bone and the book series (written by author Leigh Bardugo) are so vast, fans who haven't read the novels will be stunned.
Warning: Spoilers for Netflix's Shadow and Bone Season 1, plus the novel series Shadow and Bone and Six Of Crows, follow. The parameters of the Netflix show necessitated some changes. Showrunner Eric Heisserer said Netflix gave him a set amount of money and told him he could make eight or 10 episodes, but the budget would be the same. So obviously, he went with fewer episodes so he could spend more per installment. That means some of the book sections, like Alina's experiences in the Little Palace, are heavily condensed for expediency's sake.
Then there's the addition of Kaz, Jesper, Inej, Nina, and Matthias, all of whom are from a completely different series by Bardugo (but set in the same universe as Shadow and Bone), Six of Crows. To say the characters' experiences have changed from the book to the show is an understatement. In the books, Kaz, Inej, and Jesper never cross paths with Alina, Mal, or anyone else from Shadow and Bone. There's no mission to kidnap Alina, no trips across the Fold, etc. Instead, the threesome team up with Nina, who is working on getting Matthias out of prison. In essence, their adventure on the show is an invented prequel to their story from the books.
What are some of the other changes? Here's a rundown.