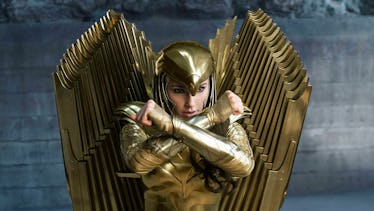 You Def Missed These 10 DC Easter Eggs In 'Wonder Woman 1984'
Warner Bros.
After 2017's Wonder Woman told the epic origin story of Amazon goddess Diana Prince (played by Gal Gadot), fans were left wondering what the iconic DC warrior was up to in the decades between that movie's World War I setting and the present-day Gotham that Diana joins in Batman v. Superman. Here to provide thrilling answers is Wonder Woman 1984, which includes plenty of retro throwbacks and nods to the character's appearances in the original comics. In fact, there are plenty of DC Easter eggs in Wonder Woman 1984 that even superfans may have missed the first time around.
Warning: Spoilers for Wonder Woman 1984 follow. Picking up almost 70 years after the first Wonder Woman takes place, this sequel finds Diana miraculously reunited with her long-lost love Steve Trevor (once again played by one of Hollywood's best Chrises, Chris Pine). However, they're soon forced to save the world again when Diana contends with new foes Maxwell Lord (The Mandalorian star Pedro Pascal) and Cheetah (comedy queen Kristen Wiig).
There's plenty to dig into in this stuffed story, which is loaded with Easter eggs. DC Comics fans will spot nods to Diana's invisible jet and golden armor, while Steve's reappearance calls back to his tragic death at the end of Wonder Woman. To help you make sense of them all, here are the 10 most significant easter eggs in Wonder Woman 1984, and how the movie called back to them:
This article was originally published on