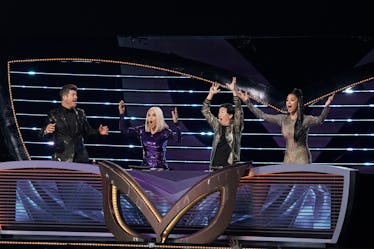 Here Are All The Clues From 'The Masked Singer's First Season 4 Promo
FOX/FOX Image Collection/Getty Images
The current shutdown in Hollywood due to the coronavirus pandemic has fans understandably desperate for any morsel of new TV updates. So, when a new video teasing the next season of everyone's favorite performing-in-disguise competition show dropped on July 29, there was a scramble to gather as much information as possible. Fret not; I've rounded up all the clues in The Masked Singer's first Season 4 promo, so you can start theorizing while you await new content.
Recently, there was some question of whether The Masked Singer Season 4 would experience holdups outside of pandemic-related delays. In mid-July, host Nick Cannon stirred up controversy for making anti-semitic remarks on his recent Cannon's Class podcast episode. In response to what Cannon said, Viacom released him from his contracts, including the contract for his show Wild N' Out. It was initially unclear whether Fox and The Masked Singer would follow suit, until Fox released a statement saying Cannon would stay. "He is clear and remorseful that his words were wrong and lacked both understanding and context, and inadvertently promoted hate. This was important for us to observe," the statement read in part. "On that basis and given a belief that this moment calls for dialogue, we will move forward with Nick and help him advance this important conversation, broadly."
Cannon has publicly apologized for his anti-semetic statements, saying: "I want to assure my Jewish friends, new and old, that this is only the beginning of my education — I am committed to deeper connections, more profound learning, and strengthening the bond between our two cultures today and every day going forward."
So, The Masked Singer is moving forward as planned. And now, the first trailer for Season 4 is here.
The less-than-one-minute teaser is low-key packed with tiny details that could prove extremely valuable. Here they all are; happy sleuthing: