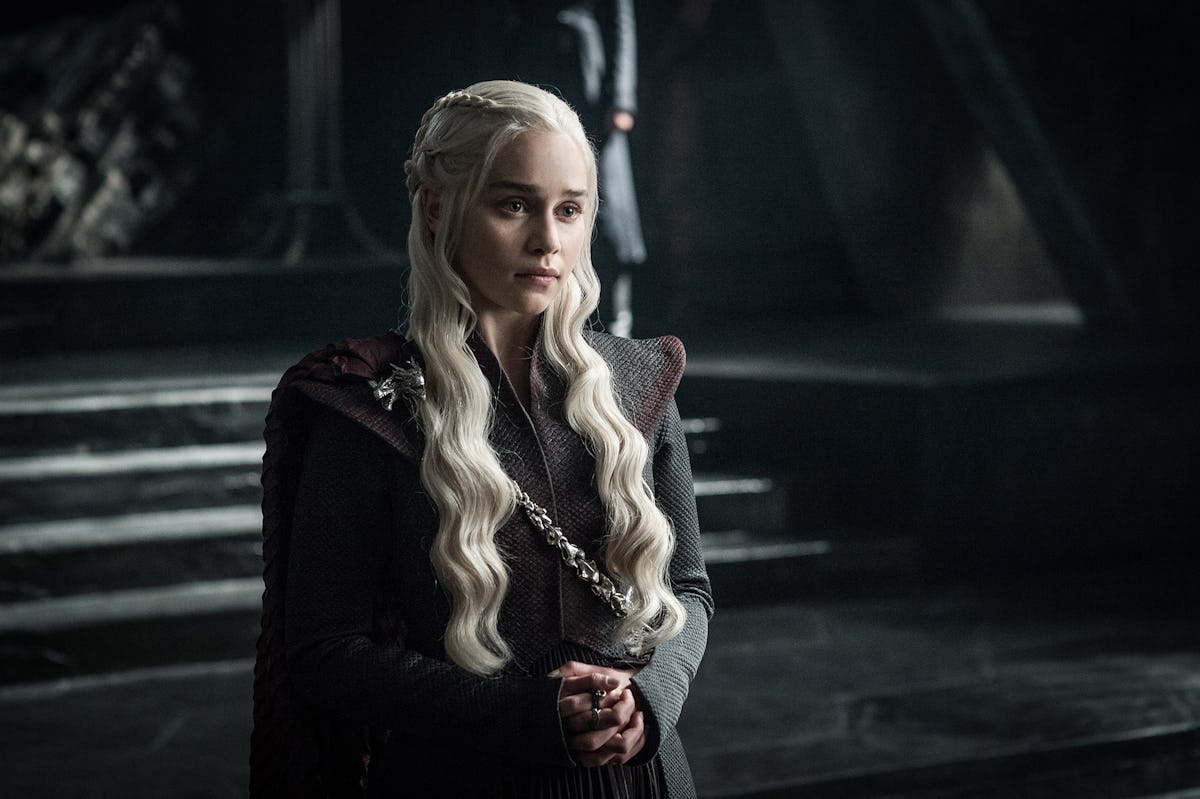 Mention These 10 TV Shows In Your Dating App Bio To Attract The Most Matches
Helen Sloan/courtesy of HBO
The references you choose to make in your dating app profile are crucial to getting quality matches. Like, would you really want to date someone who still watches The Big Bang Theory? Probably not, right? So if you like the show, it's best not to admit it. Your pictures are important, but even a short sentence can be just as much of a deal breaker or conversation starter. Bringing up television is usually a safe bet, but with so many shows out there, how do you know what to choose? These are the 10 best TV shows for guys to see in your dating app bio, according to the gentlemen themselves.
I asked men which shows they'd be most excited to see in a girl's dating profile. Some of them are more obvious choices, while a few might surprise you. Overall, I found that while dudes do like to hear jokes from their favorite TV shows, they'd rather have an interesting and unique discussion than simply exchange classic quotes. Your choice of television can say a lot about you, so when picking a show to mention in your bio, go with one that you can relate to or feel passionately about. Shared interests lead to better conversations and hopefully a successful first date. And if you haven't seen these shows, maybe now is the time to start watching. You might just find a new favorite.
1. Shameless
This popular Showtime series is about the antics of the dysfunctional, yet lovable Gallagher family. It was mentioned by almost all of the guys I talked to as a show that would impress them if they saw it on a girl's profile.
2. The Office
Though it ended in 2013, this series remains near and dear to our hearts. When asked which shows he'd like to see in a girl's bio, Preston, 22, said, "Shameless, SpongeBob, The Office, Archer, and Family Guy. Those shows all encompass some part of the humor I enjoy and employ so I'm pretty excited when I have that in common with a woman."
3. Archer
With a cast full of comedy superstars, it's no wonder FX's Archer is still going strong after eight seasons. "I would be interested in seeing Archer in her profile because it shows she has a similar sense of humor," says Anthony, 25.
4. Family Guy
Currently on its 16th season, Family Guy is one of the longest-running primetime TV series in the United States. Often taking on various aspects of American culture, the show employs raunchy, weird humor. "It's like I don't have to brief them on how twisted I am," says Preston.
5. Scrubs
This old-school workplace comedy about a teaching hospital is kind of like a much lighter Grey's Anatomy. "Shows that not everyone has seen are more exciting to discuss," says Harris, 24. "Scrubs and Community are my favorite shows, but also Arrested Development is a big one. And Shameless."
6. Community
Joel McHale, Donald Glover, and Alison Brie are among the ensemble cast of this self-aware show set at a community college. The smart sitcom often parodies overused television tropes. "Making jokes or references to something like Community, it's about making references you haven't made a million times," adds Harris.
7. Arrested Development
Originally airing on Fox, this show had a cult following before it was renewed for a fourth season by Netflix. The Bluth family grapples with falling from mega-rich dysfunction into just middle-class dysfunction, and it's hilarious. "It's more what I don't wanna see," says Tyler, 22. "Sure Stranger Things is great, but maybe list something that's more unique and tells me a little more about you. Everyone loves Game of Thrones, not everyone loves The Grand Tour."
8. Black Mirror
The latest season of this futuristic anthology series is just as twisted and brilliant as the ones that came before. It's one of Netflix's less binge-worthy shows, if only because the episodes can get pretty dark. Despite the intensity, you'll eventually want to watch every episode. "If she liked Black Mirror and wrote about it in her profile, I'd open with something like 'Hey, did you see the dating episode?' Just because people are usually obsessed with Black Mirror and it's an easy way to strike up a conversation," says Saul, 25.
9. Gilmore Girls
Lorelai and Rory Gilmore live on through Netflix's Gilmore Girls: A Year In The Life revival. If you haven't seen the original episodes, though, you're missing out on more than just great pop culture references. "I may be an exception, but I like it and it's an easy thing to talk about. And a certain kind of person likes Gilmore Girls," says Ben, 25.
10. Game of Thrones
Jon Snow. Winter is coming. Mother of Dragons. If you understand the terminology, know the houses, and can keep track of the complicated family dynamics well enough to discuss fan theories, you're golden. "It's a solid conversation starter," says John, 26. "If she can handle her heart strings being snapped and mended in the same episode, she's a keeper."
Other honorable mentions: That '70s Show, Daredevil, SpongeBob, Futurama, and The Grand Tour.
Guys want to be able to easily gauge your personality right off the bat, and sharing your TV preferences in your bio is a simple way to do just that.
Check out the entire Gen Why series and other videos on Facebook and the Bustle app across Apple TV, Roku, and Amazon Fire TV.
Check out the "Best of Elite Daily" stream in the Bustle App for more stories just like this!