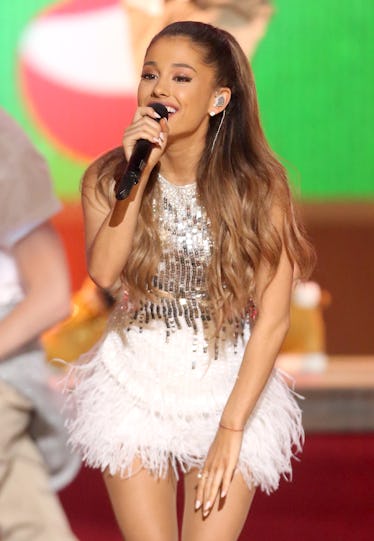 10 Holiday Gift Ideas For Arianators That'll Make Their Year So Much Sweetener
Frederick M. Brown/Getty Images Entertainment/Getty Images
Holiday gifting is fun in theory, but when it comes to finding the perfect gift for someone, it can be a nerve-racking task — especially if your loved one is extremely picky. However, if you have any Arianators in your life, you're in luck. This list of the 10 best holiday gifts for Ariana Grande fans is going to help you be alright. You'll be more than successful picking out their gift.
If you were thinking about stuffing their stocking with thigh-high socks, liquid eyeliner, ponytail holders, or anything from Grande's music catalog, I've got news for you: It's very likely they already have those items on deck. Luckily, this list is full of unique items, so you don't have to worry about presenting your lover, family member, or friend with something you'll later call a bad idea, forcing that Arianator to thank, u next your friendship.
In all seriousness, their reaction will probably be the opposite, because they appreciate you. But, if you're looking to truly impress the resident Ariana Grande stan in your life, so much so, they wrap you a big hug and rock you from side to side because they're so into you and your sweet gift, then please proceed.
We only include products that have been independently selected by Elite Daily's editorial team. However, we may receive a portion of sales if you purchase a product through a link in this article.
1. Positions Face Mask
Since 2020 is *the* year of the face mask, this gift is sure to be a huge hit for the Grande lover in your life. With mask mandates happening in most states, there's no doubt that whoever you give this gift to will be getting a lot of use out of it.
2. Positions Hoodie
Nothing screams a quarantine Christmas present like a cozy sweatshirt. This mint-green hoodie — complete with a photo of Grande on the back — is both practical and adorable. For double the fun, you can even pair the sweatshirt with matching Positions sweatpants.
3. Ariana Grande Candle
If you and Ariantor have plans to get lit this holiday, LitWickShop's Saint Ariana Grande candle makes the perfect addition.
4. Sweetener Tour Clear Fanny Pack
Need a place to put your lipgloss and mask but aren't a fan of bags? This small but mighty fanny pack is perfect, not to mention it's only $8.
5. Ariana Grande Coloring Book
If the Arianator in your life is the creative type, they may enjoy this cute Ariana Grande-inspired coloring book to pass the time.
6. "Dangerous Woman" Mug
A true Ariana Grande fan should enjoy their hot holiday beverage in a mug, appropriately embossed with the name of one of her hits. This one features her 2016 hit "Dangerous Woman."
7. Ariana Grande Cookie Cutters
Add some sweetener to your Arianator bestie's holiday with Ariana Grande-shaped cookie cutters. Baking a few sweet treats with your BFF is a great Ariana-inspired way to spend some time together, too.
8. Positions Pencil Pack
If you're going to have to keep working (or learning) from home for the foreseeable future, might as well make it fun. Each pencil in this three-pack has different lyrics from "Positions," such as "heaven sent you to me" and "switching them positions for you." These are a perfect stocking stuffer.
9. The Unofficial Ariana Grande Fan Book of 2020
What better way to test your Grande-knowledge than word search puzzles and quizzes? This $15 gift is perfect for the Arianator in your life.
10. Pillow Covers
Prepare your BFF to have no more tears left to cry when you gift them these decorative pillow covers. They'll be able to simply say goodnight 'n go.
This article was originally published on