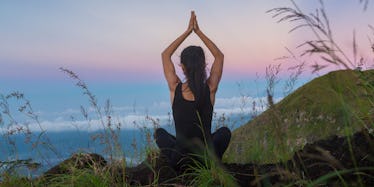 Girl Says Yoga Helped Her Survive Terrifying Car Crash That Killed Her Friend
Felix Hug
Believe it or not, yoga may have been the main reason a young woman was able to survive a traumatic, horrifying car crash she first believed to be a bad nightmare.
Two 19-year-old friends, Natalie Griffin and Jenna Santos, had been driving back home to Castro Valley, California when rainy weather caused their car to hydroplane and swerve into a creek.
According to People, Griffin and Santos were driving through Mendocino county on Highway 101. Santos was driving as Griffin sat in the passenger seat while texting her boyfriend.
In the photo below, Jenna Santos is pictured on the right and Natalie Griffin is shown on the left.
Griffin told People,
The next thing I knew we were hydroplaning, then we were upside down and I felt this really big impact on my head.
The 19-year-old then said the car had flipped over and landed upside down in a nearby, rapidly-moving creek that had been overflowing with rain water,
At first, I didn't know I was in the water. I thought she was driving, the river was moving the car so fast. We started to panic and we were saying, 'Oh my God, oh my God.' We were freaking out.
That's when the quick-thinking women decided to try and kick an already cracked window in hopes of freeing themselves. Unfortunately, that plan didn't work.
Instead, the damage allowed even more water to flood the vehicle.
I said I have to calm down, if I kept panicking I wasn't going to get out of it. When the water was at our necks, Jenna was crying and I realized the back window was open, that the water was filling in the front and the back was sticking out of the water.
At that point, Natalie Griffin was sure that the only way out for both of them was through the back window.
I climbed out of it and jumped into the river, it was really cold and really high and fast because it was raining.
The rough river current sent Griffin slamming right into a tree, according to the report.
Luckily, Griffin was able to use the tree as leverage to pull herself out of the water.
I remember reaching from the water and grabbing onto a branch and I pulled myself up. I was in shock, completely scared out of my mind.
Griffin then peered over at the submerged car, realizing that Jenna Santos had still been inside and hadn't been able to exit through the back window.
That was one of the scariest parts, I thought it was a nightmare, I was so in shock that my friend was in the car, dead. I really thought this was a bad dream.
For at least 12 more hours, Griffin struggled to survive. The frigid temperatures challenged her belief she would live to see another day.
Sporting a pair of Lululemon fitness pants and an Under Armour shirt, Griffin was able to position herself on a branch as the rain poured down on her all night long.
Griffin told People,
I was crazy shivering, uncontrollably, the whole night, it was absolutely freezing. At some point, I thought I was going to die. At first, I was crying, but during the night I didn't cry at all, I was just trying to stay positive.
This is when Griffin's love for yoga and meditation actually helped her stay level-headed and positive during the traumatic experience. She used a variety of different stretches and breathing exercises to calm her nerves.
Eventually, Griffin fell asleep and began to imagine Jenna Santos was with her.
Griffin said,
She was there talking to me. She said, 'It's OK, you can't think you are going to die.'
When the sun finally rose, Griffin mustered up enough strength to try and swim across the treacherous river. Unfortunately, Griffin's horrifying experience wasn't over yet.
The water pulled her over into a bunch of vines and leaves, which then pulled her underwater. She added,
I thought I was going to die.
Still, she didn't give up.
The 19-year-old had an idea that if she swam underneath the vines and back up to the surface, she may be able to free herself once and for all.
It was crazy for the idea to come. It seemed like something divine, like God.
Her plan worked, but she was nearly defeated. She said,
I couldn't walk, I couldn't move. I could barely stand and at one point I fell and said, 'I can't do it.'
Somehow Griffin was able to swim ashore before making it to a nearby roadside and hailing an oncoming truck for help.
I was so relieved, so happy, it was the happiest day of my life, I was waving my arms and the first truck I saw stopped. I told him I am so cold, the coldest I've ever been.
The life-saver of a truck driver then called 911 and let Griffin use his phone to contact her family members.
Fast-forward just a few hours later, and she was safe and sound at home.
However, the painful loss of her dear friend was hard to stomach.
I couldn't stop crying for the last couple of days. This girl, who is like a sister to me, is just gone. It's overwhelming and very sad. She was always positive, she always found the good in people, she always wanted to make someone feel better, one of those people always bubbly.
Because Santos, an only child, was raised by a single mother, it will be tough for her family to fund her funeral costs. Griffin's family has set up a GoFundMe page to help out with those costs.
As of now, the crash is still under investigation by law enforcement.
Citations: Girl Who Survived Car Wreck, Spent 12 Hours Clinging to a Tree in Freezing Waters: 'I Thought I Was Going to Die' (People)