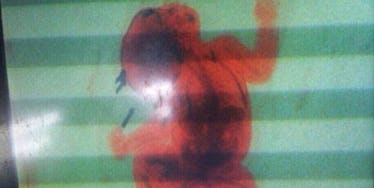 Mother Gets Caught Sneaking Baby Onto Plane When X-Ray Finds Him
Security at a Philippines airport was horrified to find a baby inside the backpack of a female traveler.
Papua New Guinea's Jennifer Pavolaurea, 25, was trying to leave the Philippines with her 2-month-old son but failed to obtain the immigration documents for the infant to fly back home.
So the nursing graduate stuffed the sleeping child inside a backpack, which was then sent through an X-ray scanner at Ninoy Aquino International Airport.
Pavolaurea admitted her intentions once the baby's image appeared on the machine.
According to ABS-CBN News, an immigration officer was asking the mother about her extended stay in the Philippines before the baby was found.
Airport authorities chose not to press charges, however, and the two were allowed on their flight to Papua New Guinea without trouble.
Daily Mail recalls an Egyptian couple making a similar smuggling attempt in 2012.
They had just arrived in their home country but did not have the necessary immigration documents for their 5-month-old to leave Sharjah International Airport.
The couple was informed it might take several days to solve the dilemma, so they placed the child in a duffel bag, only to have its image come up on an X-ray scanner as they went through customs.
Authorities weren't as forgiving as in the Philippines and arrested the couple for putting the baby's life in danger.
Citations: Airport staff discover mother smuggling baby onto plane in a BACKPACK after spotting unusual form in Xray scanner (Daily Mail), Mom hides sleeping baby in backpack at NAIA (ABS-CBN News)