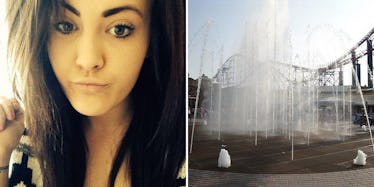 Woman Needs 250 Stitches After Water Park Fountain Rips Her Vagina
A British woman is unable to enjoy sex after a fountain at a water park inflicted horrific damage to her vagina.
According to Daily Mail, Manchester's Shelby Clarke was 14 years old when she went to the Pleasure Beach in Blackpool with her mother, stepfather and friend, Sarah, in October 2009.
During Clarke's visit, she noticed one of the park's newest attractions had just opened up to the public. The Spectacular Dancing Water Fountain was a set of water jets that shot out of the ground.
Clarke recalls,
There were loads of kids running through the water jets so Sarah and I joined in. But as were playing, I was hit by a very powerful jet. It knocked me off my feet and I felt I needed to go to the toilet immediately. But I noticed there was blood everywhere.
She was quickly rushed to the hospital, and her injuries were so bad, doctors first thought Clarke had been raped.
Her mother, Karen, said,
She was badly injured, literally ripped right across from her bottom to her vagina.
Clarke's internal and external injuries would require a two-hour procedure involving 250 stitches.
She was released from the hospital after three days but urination and periods were unbearable.
Another six weeks went by before Clarke returned to school.
She said,
My doctor gave me an implant to stop my periods, but I still suffered with pain and sudden bleeds. I was terrified that I might start bleeding, on the bus or in class. I even had to be home-schooled for a few months because I was paranoid about being around other people.
Clarke met her boyfriend, Danny, three years after her surgery.
They rarely have sex because of the suffering it causes her.
She says,
I can enjoy sex but I can't have it very often -- and so then I start to worry that Danny might cheat on me or leave me. I'm very lucky that Danny is patient and understanding, and it has made our relationship much stronger.
Clarke was given a five-figure sum after her family pursued legal action against the Pleasure Beach.
The money will go toward treatments that may be needed should she want to become a mother.
Doctors aren't sure she'll ever be able to have children naturally, but they'll hopefully give a more definitive answer once Clarke has scar tissue removed from her cervix in the near future.
Clarke told Daily Mail,
I can't help thinking that if it had been a 2-year-old running through the water, she might have been killed. I wanted to bring the legal action to make sure this doesn't happen to anyone else.
The water park now makes announcements before a fountain show reminding visitors not to walk on top of the jets, which are also guarded by staff members.
Citations: Woman hit between the legs by water jet at Blackpool Pleasure Beach fears her sex life is ruined and she may never have children after she was left needing 250 stitches (Daily Mail)