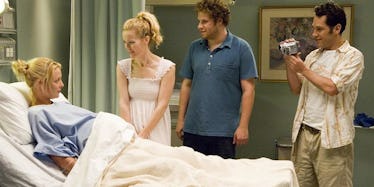 Woman 'Dies' While Giving Birth, Wakes Up Not Remembering Being Pregnant
Universal Pictures
A woman went into cardiac arrest while she was giving birth and had no idea her child had ever existed when she woke up.
According to Daily Mail, Britain's Hilary Wilson, 41, was in labor for 12 hours before doctors realized she would need a C-section.
But just as Felix was brought into the world, she suffered an amniotic fluid embolism.
Amniotic fluid from the fetus had gotten into Wilson's bloodstream, disrupting the heart's electrical activity.
The mother of two was dead for 11 minutes.
I lost four-fifths of my blood because they hadn't finished the surgery on my C-section -- I had to have a blood transfusion and was put on life support.
The comatose Wilson was given a 30 percent chance of survival and an 85 percent chance of brain damage but woke up in remarkable health four days later.
She had no memory, however, of giving birth or even being pregnant.
Friends and relatives showed her photos of Felix and told her he was healthy, but Wilson could not comprehend that the baby was hers.
She added,
I was trying to make sense of everything around me, I thought maybe I was paralyzed, or that I'd died -- I eventually decided that I must be having a nightmare.
It wasn't until she was given a picture of Felix wearing clothes her other boys had worn when they were born that she understood what had happened.
The two were finally introduced six days after Felix's birth.
At first Wilson was very hesitant to hold Felix, but her reservations faded away over the next few days as she breastfed her son.
She said,
Slowly, vague memories of being pregnant and giving birth returned, and I gradually started to feel the instinct to look after him.
Wilson's husband gave doctors permission to use a breast pump while she was unconscious so she could breastfeed, which she believes started the bonding process.
Another two weeks in the hospital went by before the mother and son were cleared to go home.
They now have no difficulties in sharing their love for each other and have grown closer.
Wilson says her near-death experience has given her a new appreciation of every day she gets to spend with her family.
Citations: New mother dies for 11 MINUTES as she gives birth to her son and wakes up with no memory of ever being pregnant (Daily Mail)