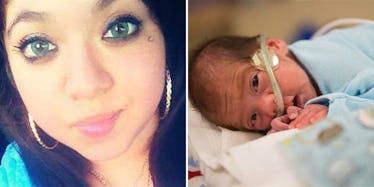 Woman Gives Birth To Baby Boy 54 Days After Being Declared Brain Dead
Methodist Hospital
A Nebraska woman recently gave birth to a little boy, despite being declared brain dead nearly three months ago.
Karla Perez, 22, suffered from juvenile rheumatoid arthritis, the Washington Post reports, making pregnancy very painful because it requires giving up medications for the disease.
She gave birth to a healthy baby girl just three years ago, however, so doctors were confident nothing serious would happen this time around.
Perez came down with a severe headache on February 8 and thought a nap would help ease the pain. She woke up feeling no better and soon lost consciousness.
When she was taken to Methodist Women's Hospital Perinatal Center, doctors discovered she had an intracranial hemorrhage and there was nothing they could do nothing to save the organ.
Perez's family asked them to put her on life support and maintain the pregnancy for as long as they could.
The Washington Post reports the last time a brain-dead woman gave birth in the US was in 1999.
Todd Lovgren, a doctor at Methodist Perinatal Center, said,
I've never done this before. We go to the literature, you go to your textbooks, and you don't find how to take care of these patients. So it's really up to the knowledge and understanding of the physicians in each of those specialties.
Dr. Lovgren and his colleagues relied on several body systems experts to make sure Perez achieved maximum stability.
Throughout the process, there were times when over 100 people were keeping watch over her.
Doctors believed the baby would be OK as long as they kept Perez alive for at least 24 weeks into her pregnancy. Her deterioration didn't begin until she was 30 weeks pregnant, which Dr. Lovgren called "fairly impressive."
A Caesarean section was performed on April 4. Perez gave birth to a boy named Angel who weighed 2 pounds, 12.6 ounces. Unfortunately, she died two days later.
Angel has since remained in the neonatal intensive care unit and is currently being fed through a tube.
His condition is described as stable, but he will be in intensive care for another month.
Brady Kerr, who works in the NICU, said,
He wouldn't have done this well if we weren't able to prolong Karla's pregnancy to the point where the rest of his organs had time to mature and develop, specifically the lungs. Right now we have hope and reason to be cautiously optimistic because we don't have any signs of complications.
Citations: A brain dead woman was kept alive for 54 days to deliver her baby (The Washington Post)