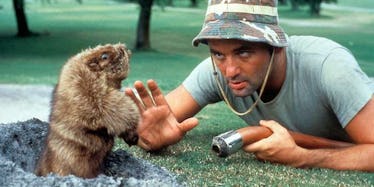 Winter Is Here To Stay: 14 Things You Probably Didn't Know About Groundhog Day
Colombia Pictures
For those of you who may not know, every February 2, for the past 129 years, some little furry critter has been telling us whether we have to keep up with the layers and hot chocolate, or start to hit the gym even more since warmer weather is just around the corner.
Today, at 7:25 am ET, Punxsutawney Phil, aka the groundhog of Groundhog Day, saw his shadow, meaning six more weeks of winter shall be had.
Yes, you read that right. Curse you, Phil!
But, here are a few more things you may or may not have known about Groundhog Day:
1886
This is the first officially recorded Groundhog Day. I'm telling ya, this day goes way back.
Festival
There is an actual festival held to celebrate Phil's prediction, in the town of Punxsutawney, Pennsylvania. They have a live stream of the event if you suffer from FOMO.
Siebenschläfertag
The German settlers of Pennsylvania apparently started this whole thing. And, Siebenschläfertag is the German equivalent that happens on June 27. If it rains that day, that means the rest of the summer will also be rainy.
Serbia
Serbia also celebrates something similar but on February 15. If it's sunny that day, winter continues. If it's cloudy, then brace yourselves because spring is coming.
Wiarton Willie
This is the Canadian version of Phil. However, some differences include fondness of hockey and maple syrup, being albino and also not being a feisty diva when being taken out of its home.
Inner Circle
The men who run the show wear top hats and are known as the "Inner Circle." They also have certain roles, such as being Phil's protector, a co-caretaker and there's most likely a masseuse somewhere in there, too. There are 15 members and I couldn't tell you how you could become the president of this group.
Social Media
Phil has both a Facebook page and a Twitter account and updates his predictions on there. However, I'm pretty sure his protector does it since Phil is a major diva and can't be bothered with such things.
39
This is the percentage he has been correct with his predictions, according to the StormFax Weather Almanac and records kept since 1887. Seems just about as good as any weather app, news anchor or your grandma's aching joints.
Real Name
His real name is "Punxsutawney Phil, Seer of Seers, Sage of Sages, Prognosticator of Prognosticators and Weather Prophet Extraordinaire." And here you thought Phil was short for Punxsutawney Phil.
Diet
A groundhog's diet consists of plenty of veggies, fruits and little water. So, Phil's been on the kale and gluten-free diet since before it became a fad. Yes, Phil is secretly a hipster.
Whistle
When feeling alarmed, groundhogs will whistle. They also whistle when they begin courting in the spring -- whistling while they twerk.
One and Only
There has only been one Punxsutawney Phil. He is able to fight immortality by drinking "groundhog punch," which he sips once every summer at the Groundhog Picnic. This gives him seven more years of life each time. What is in the groundhog punch remains a mystery; although, it's possibly a mix of gypsy tears and baby laughter.
Prohibition
During the time of Prohibition, Phil had threatened to make winter longer by 60 weeks in his community if he wasn't allowed to drink. Yes, even groundhogs need to get their drink on.
Imposters
Just like a Prada bag, there are imposters, such as Staten Island Sammie and Newark Nicky. Do. Not. Believe. Them. They hibernate on a bed full of lies.
So, grab your blankets, grab your Swiss Miss hot cocoa and bundle up to the 1993 "Groundhog's Day" film featuring Bill Murray because winter is here to stay, at least for another six weeks.