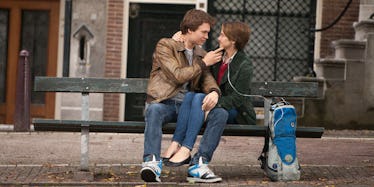 Video Series Shows Appalling Lack Of Speaking Roles For People Of Color
20th Century Fox
When you see a movie, what color are the people with the main speaking roles?
A Tumblr account is now showing the painfully obvious way Hollywood diminishes the roles people of color play in movies.
Every Single Word, which was created Dylan Marron, features edited clips showing every time somebody of color speaks in a major movie.
The results are comically depressing.
For instance, "(500) Days of Summer" had less than 30 seconds of non-white speakers during the entire film.
What's worse is many of the minority actors featured on Every Single Word don't even have names in movies; Michelle Rodriguez Nouel played the role of Physical Therapist in "Black Swan" and Claudia Choi was Uncomfortable Waitress in "Her."
The lesbian sex scene in "Black Swan" was longer than all the times with people of color talking put together.
One of the most egregious examples of Hollywood's propensity to relegate minorities to smaller roles in films is in the film adaptation of "The Fault in Our Stars."
Marron, who is an actor and writer himself, said he loved the book but was wholly disappointed with the lack of diversity in the cast.
Marron told BuzzFeed,
I love that book. But nowhere in John Green's exceptional novel was any character's race ever mentioned. So why is whiteness the default? The story is not about whiteness, it's about love and loss and mortality. If Hollywood keeps using white actors to tell universal stories then it is suggesting that people of colour don't fit in to the zeitgeist of human emotions.
The movie adaptation of the book, which doesn't mention the race of any of its characters, features only one minority actor in a speaking role during the course of its two-hour and 13-minute runtime.
Marron said the blog has been generally well received with a small amount of negative comments, popping up mostly from YouTube users.
He said,
It's interesting to see people get so defensive when the work they're attacking is simply presented facts.
At least these movies weren't as bad with minority speaking roles as "Into the Woods" was.
Citations: These Short Videos Reveal the Shocking Lack of Speaking Roles for People of Color (Cosmopolitan)