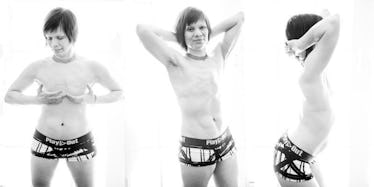 Underwear Company Uses Brave Breast Cancer Survivors As Its Models (Photos)
Play Out, a New York-based underwear company, recently launched a new campaign to raise awareness for breast cancer in the queer community.
The campaign, dubbed FlatTopper Pride, features post-operative breast cancer survivors Jodi Jaecks, Melly Testa and Emily Jensen modeling the brand's gender-neutral underwear.
In the ads, the three women, none of whom elected to undergo reconstructive surgery, pose topless, proudly displaying their flat chests.
The goal of the powerful campaign is to encourage women to feel comfortable post mastectomy. Many women choose to get implants after surgery to feel more feminine, but this campaign aims to remind women (especially those who identify as queer) they're allowed to love their bodies as they are.
The website explains,
We want to share their photographs, stories and experiences with you in the hopes that other breast cancer patients, especially those in the LGBTQ community, will find their role models, support and inspiration. Let's start a dialog around gender presentation and expectations, breast cancer and being queer.
The project launches in conjunction with Jensen's new website, FlatTopper Pride, an online community described by the writers as a place "where gender expression and cancer intersect in a meaningful, productive and supportive space."
Find some of the campaign's inspirational photos below.
Each model was diagnosed with breast cancer at an early age.
All underwent bilateral mastectomies or the removal of both breasts...
...and none chose to receive implants after recovery.
The campaign's goal is to remind LGBTQ women reconstruction isn't mandatory...
...and it's OK to be happy without breasts.
The women call themselves "FlatToppers."
And they're just as beautiful as other women.
This is girl power at its finest.