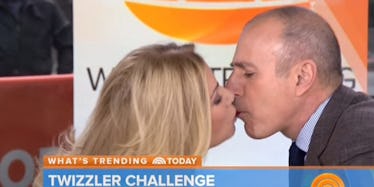 The Twizzler Challenge Is For A Good Cause And Will Get You A Hookup, Too
It's been about nine months since the ALS Ice Bucket Challenge took over the Internet.
That means it's time for a new trend. The Twizzler Challenge, designed to raise money for autism through donations to New York Collaborates for Autism (NYC4A), has arrived.
Remember the lengthy spaghetti noodle shared in the Disney film "Lady and the Tramp?"
The Twizzler Challenge works just like that, so it's sure to be popular among couples. It could even become a way to make a move on your crush.
The trend began when Fred Katz, a writer for Bleacher Report, tweeted the idea to actress Uzo Aduba and comedian Willie Geist during the televised "Night of Too Many Stars: America Comes Together for Autism."
Willie Geist and Crazy Eyes have to "Lady and the Tramp" licorice #nightoftoomanystars — Fred Katz (@FredKatz) March 9, 2015
To loud applause, the pair shared a Twizzler (and a kiss!) in front of the audience.
So, when Willie Geist visited "The Meredith Vieira Show," the pair took the Twizzler Challenge together. They invited others to either try it or make a donation to NYC4A.
The pair passed the challenge to Matt Lauer and Kathie Lee Gifford of the "Today" show.
.@KathieLGifford accepted @meredithvieira's #TwizzlerChallenge with @MLauer! pic.twitter.com/H4844AAmgm — Kathie Lee and Hoda (@klgandhoda) March 17, 2015
When @MLauer and @KathieLeeGifford kiss the rest of the @TODAYshow cast be like...#TwizzlerChallenge pic.twitter.com/pNL29b2rhr — NYC4A (@NYC4A) March 17, 2015
Like it or not, #TwizzlerChallenge is picking up speed.
Okay only way I can be on board with this #TwizzlerChallenge IF you challenge me and Matt Bomer. Aside from that.. NO. — Roswell Encina (@roswellencina) March 17, 2015
Me & you, #TwizzlerChallenge @TreySongz — Roxana Veliz (@_roxanaav) March 17, 2015
You can #TwizzlerChallenge me any day — Lauren Fire (@Lolprinses) March 18, 2015
Citations: The Twizzler Challenge Might Be the Next Ice Bucket Challenge (Time )