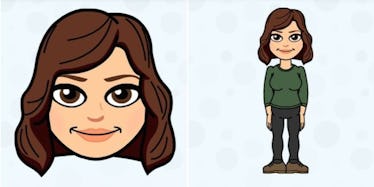 Finally! There's Now An App That Lets You Create An Emoji Of Yourself
Why rely on standard emoji when you could send a cartoon version of yourself to express emotions via text message?
The makers of Bitstrips, those cartoonish comic strips that briefly took over your Facebook wall, struck Internet gold again. This time, it's with the app Bitmoji.
Thanks to Bitmoji, your texts and social media posts can feel just as much like an expression of your personality as the conversations you have face to face.
Bitmoji, free to download for both iOS and Android, offers a brief introduction.
Start making your own avatar by choosing a gender.
Next, pick attributes that look like yours. Hair, makeup, eyebrows and more are all customizable options.
Then, choose an outfit and body type.
All done! You're now able to share a range of emotions and pop culture memes.
Finally, there's something to text your best friend to indicate you're starving but can't get off the couch.
There's an appropriately weird way to invite people out.
And, thankfully, there's finally a way to tell others how much you "can't even."
Citations: Emoji that look just like you are hilarious, slightly creepy (Mashable )