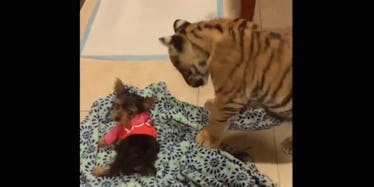 This Tiny Puppy Playing With Its Baby Tiger Friend Is Impossibly Cute (Video)
A video uploaded to YouTube earlier this week proves that even the unlikeliest of animal pairs can be best fur-iends.
In what may very well be the cutest clip of all time, a tiny Yorkie puppy and a tiger cub play together like seasoned besties.
The Yorkie hops around excitedly on a blanket on the floor, while the oversized kitty protectively peers down, lovingly headbutting the pup every few seconds in failed attempts at nuzzling.
The two appear to be inside a home, which suggests both animals could be family pets.
While big kitties probably don't make the best in-home companions once they're fully grown, they are cute as hell as cubs -- and, as you'll see above, they're as sweet and harmless as any baby animal.
See the paw-some video for yourself up top!