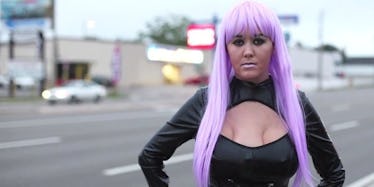 The Legendary Three-Breasted Woman Finally Confirms Her Boobs Are Real (Video)
Whether or not you've stopped to wonder what ever happened to the three-breasted woman, she's here to tell you.
Jasmine Tridevil's story went viral earlier this fall after she revealed a surgically-implanted third breast that was subsequently "outed" as a prosthesis.
But, thanks to the UK's Barcroft TV, Tridevil is back to tell the full story from her own point of view.
Wearing a plethora of colored wigs and leather catsuits, Tridevil shares her journey to fame and claims, once and for all, her legendary third breast is real.