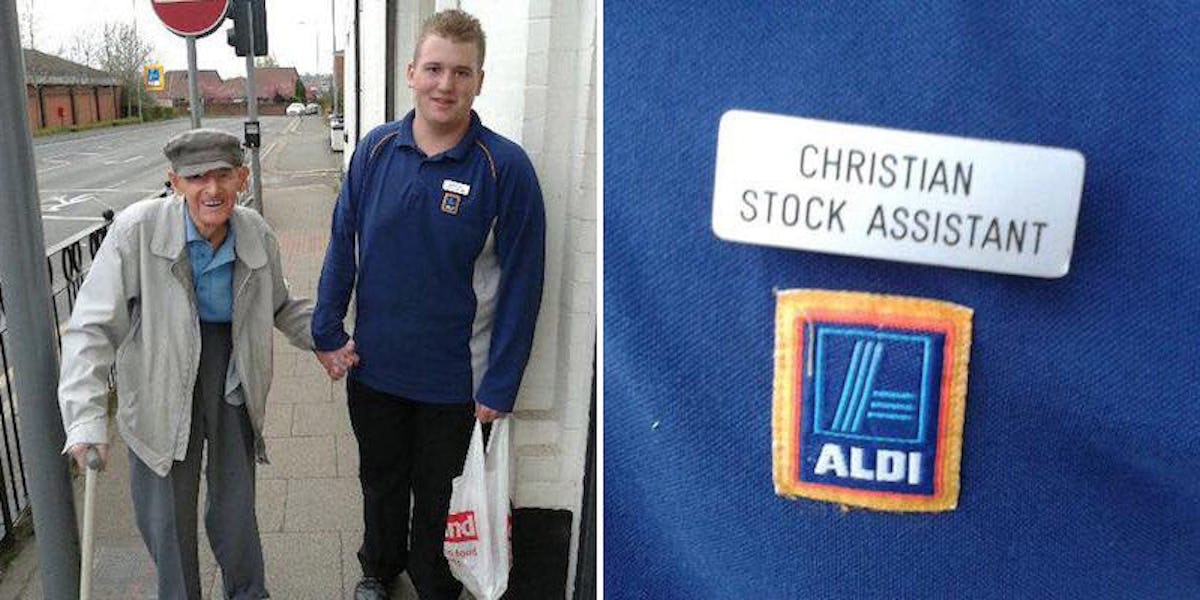 Supermarket Worker Walks 95-Year-Old Shopper Home And Carries His Bag (Photos)
Facebook
One Brit teen just schooled the world on how to be a gentleman.
Christian Trouesdale, 18, from Greater Manchester, was working a shift at his local grocery store when he noticed an elderly man in the checkout line.
It was a windy day and 95-year-old Bob Molloy looked rather frail so Trouesdale offered to help him get home.
On the way, Samantha-Jayne Brady, who works at a nearby fish'n'chip shop, spotted the pair walking together.
Touched, she snapped a picture and posted the photo on Facebook with a message commending Trouesdale's kindness.
She included in her message,
If this gave you a little more faith in mankind, PLEASE share!
Since then, the photo has been shared over 75,000 times and has over 277,000 likes -- and that's just on Facebook alone.
Though Trouesdale thinks his newfound fame is "strange" because this is something he'd "normally do," Brady was truly inspired by the teen, and "hope[s] others follow his fine example."
Citations: Everyone Loves This Picture Of A Supermarket Worker Carrying Out An Old Mans Shopping (Buzzfeed), Teenage Shop Worker Who Walked Elderly Man Home From Aldi Becomes Viral Sensation (Bolton News)