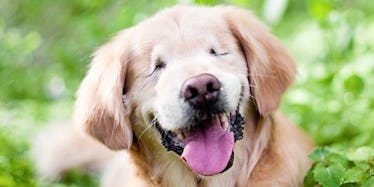 Smiley The Blind Golden Retriever Became The Perfect Therapy Dog (Photos)
What Smiley the golden retriever lacks in vision, he makes up for in love.
The blind dog, named for his constant doggy grin, is receiving viral attention for his work as a therapist.
Smiley was born without eyes, grew up in a puppy mill and suffered from bowed back legs and ill treatment.
When he was about 2 years old, the dog made it to his forever home in Ontario.
Although he once cowered in the presence of other dogs and struggled with basic rules like housetraining, Smiley's come a long way.
And almost 10 years later, the certified therapy dog continues to bring joy to every room and to those struggling to fight depression, illness or disability.
He even works with the elderly in the town of Stouffville, reports ABC.
Dog trainer Joanne George, Smiley's owner, had a veterinarian sew up the pup's eyelids soon after she brought him home in 2004.
Pet photographer Stacey Morrison, who's previously worked with the dog, said his eyes just make him look like he's smiling so hard he's begun to squint.
The photographer adds the dog, although prone to running into objects in unfamiliar spaces, learns quickly.
He takes extra high steps, gently trying to map out the world around him.
Smiley, who has two doggy siblings, works for George's service Training the K9 Way.
Besides visiting nursing homes, George also brings the dog to residences for the physically and mentally disabled.
Smiley's gentle disposition and puppy-like coat make him an ideal companion.
George even says the dog does well in crowds and with children.
As a testament to his growing celebrity, Smiley appeared onstage with "The Dog Whisperer," Cesar Millan, three times.
Smiley provides a message of encouragement to frustrated dog owners.
As George tells it, the takeaway is "it doesn't matter where, or how a dog starts off his life -- he is able to overcome and become a stable, happy dog."
And Smiley is certainly that.
He and George are partners in spreading joy.
Citations: Blind Golden Retriever Smiley Warms Hearts as Therapy Dog (ABC News )