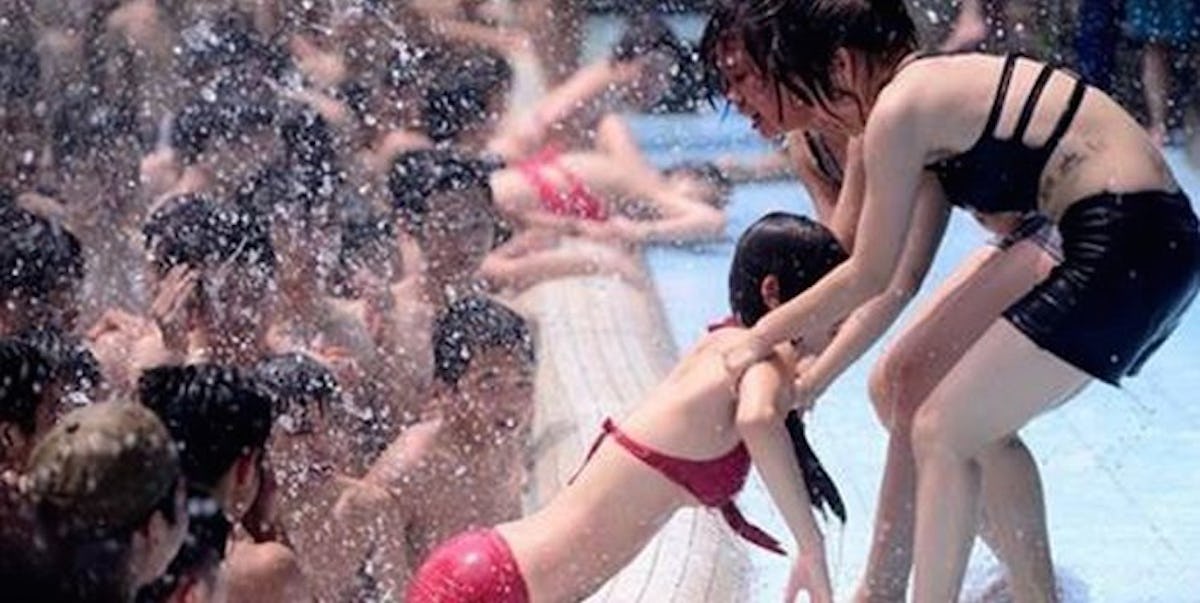 20 Or More Women Were Sexually Assaulted At A Vietnam Water Park And Nobody Seems To Care
YouTube
Warning: Graphic descriptions of sexual assault and violence to follow.
Three months ago, Ho Tay Water Park in Hanoi, Vietnam offered free admission for the first two hours of the park's season opening on April 19 from 8 am to 9 am.
About an hour into the free admission time slot, thousands of people began flooding into the park.
The lazy river became overcrowded, as people had jumped the gates in order to reach the attraction, and soon, groups of 70 to 80 men were assaulting women in the water park.
According to Viral4Real.com,
"Whenever these men saw girls, they would start 'attacking' them by splashing water, pushing the girl's heads down, and practically drowning them. Some women had their bikinis ripped off and were being molested by thousands of men. Despite crying and screaming for help, the men would not stop. The aftermath of the chaos resulted to at least 20 girls molested and sexually assaulted by thousands of unknown men."
A few of the women even depicted their horrific experiences on Facebook:
"We were holding onto the swim ring at the lazy river for about 3 minutes. Then we heard a commotion at the back, as we turned around we saw hundreds of boys crowded the whole river, screaming and going towards the three of us. "I was shock and choked on water, many arms pushed my head down. I felt my breast and my private area being grab and pull and scratch very painful, my butt was groped too. My bikini top was pull up to my neck and the bottom was pull till my knee. "Even though i was choking, but i felt clearly someone was fingering me, my legs was spread apart. My head was still pressed down, I was out of breath and I thought I was going to drown. "The water go up my nose to my brain, my throat. Those arms scratch and pull me up, my head hit the coping. Then there was people grab my hair, my arm to pull out of the swimming pool. I was coughing really hard so I didn't even realize I was completely naked…"
Another Facebook user detailed her sister's story:
"My sister went with her friends. When they came back, they were crying their eyes out. Their necks, shoulders and thighs are full of scratches and bruises."
One woman described,
"It was too crowded so my boyfriend and I just played near the swimming pool coping. Suddenly I saw on my boyfriend head some milky fluid, when I touched, it was slippery and a bit thick. I dragged my boyfriend out of the pool immediately and asked him to wash his hair and we went home right after. Those animals masturbated in the swimming pool."
What's even worse than the public trauma these women experienced was the callous and apathetic responses of the park officials and other locals.
When pictures and videos surfaced of the events, including one of a woman crying in a ripped bikini, Nghiem Hong Hanh, female vice general director of Hanoi Entertainment Services Co. (which runs Ho Tay Park), released a statement:
"There was NO such thing as sexually assaulted at the water park, it's just their bikini quality."
Men who participated in the assaults posted "victory pictures" on Facebook (which have since been removed). Bystanders stood and watched as young women cried for help.
Two days after the event, a local Vietnamese newspaper quoted professional Psychologist Pham Phuc Thinh, who holds a masters in education, defending the water park by saying,
"The first thing is to blame the girls who did not consciously protect themselves. In an environment where everyone, male and female, are nude about 80 percent (or even more), the emergence of excessive action is inevitable."
There are, of course, so many obvious problems with this situation and how it was handled:
1. Park officials did nothing to help the victims as the assault was happening, even though they were aware dangerous conditions were present.
2. The opportunity these young, Vietnamese men saw when offered free admission to a water park was to sexually assault women.
3. These same men then bragged about the sexual assaults on social media and received praise.
4. When the assaulted women took to social media to voice their distress over the assault, or when they complained to public officials, they were not taken seriously and even blamed for the event.
5. Local coverage defended the water park and the attackers.
6. It has taken nearly three months for news of the event to surface in the US.
According to Women Organized Against Rape (WOAR), 1 in 3 women in the US will be sexually assaulted in her lifetime.
In a global study conducted by the United Nations, 1 in 4 men admitted to raping someone during his lifetime.
Sexual assault isn't black and white. It isn't perpetrated only by "bad guys" or in "date rape" situations. It happens in private. It happens in public.
It happens individually. It happens in groups. It isn't just a third-world problem. It isn't just an international problem.
Sexual assault isn't easy to define, and it isn't easy to stop. Sexual assault is everyone's problem.
So, what can you do to help?
1. Share this article.
The first step in making change is acknowledging there is a problem and spreading the word. Make people pay attention. Don't let things like this slip through the cracks. Don't let the world think we think this is okay. Get noticed.
2. Sign a petition.
Get online and add your name to a petition that targets the Vietnamese government and asks it to punish the attackers. The petition needs at least 3,000 signatures, and they are almost there!
3. Advocate within your community.
Sexual assault happens somewhere in America every 107 seconds. Speak out, and advocate for justice and education in your communities.
Share stories of sexual assault that are suppressed by the media. Volunteer at outreach organizations that help to provide sexual assault education and support.
This problem will not go away on its own.