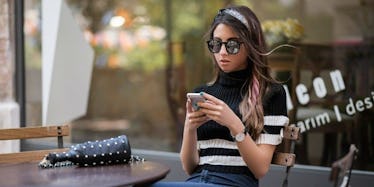 Science Says Ignoring Your Phone Doesn't Actually Help You Focus
Visne Tadinda
In news that isn't surprising at all, recent research shows your phone is still distracting you even when you're trying to ignore it.
The findings of a study published last month by Florida State University suggest, regardless of if you pick up your phone or not, just hearing you phone's ringer or feeling your phone's vibrations can be distracting.
The study consisted of 212 undergraduates who participated in a test assessing how well they could maintain focus on a general task.
During the task, numbers and symbols, which correlated with typing certain keys, appeared on a computer screen.
Well, that's the very basic description of the fairly easy assignment given to the students.
More importantly, the participants weren't instructed to do anything in particular with their phones; they could put their phones on any setting and place them wherever they chose.
The participants completed the task twice, and the second time, half of them received texts and calls from the researchers administering the tests.
Those who picked up their phones were eliminated from the data collection because, for the purpose of the study, the researchers were only interested in participants who genuinely tried to ignore their phones.
Of those left, the results showed even the students who made an honest effort to not touch their vibrating or ringing phones still became more distracted than those whose phones were kept on silent.
The authors of the study wrote,
Our results suggest that mobile phones can disrupt attention performance even if one does not interact with the device. As mobile phones become integrated into more and more tasks, it may become increasingly difficult for people to set their phones aside and concentrate fully on the task at hand, whatever it may be.
Truthfully, even just repeatedly typing out "phone" desperately made me want to pick my phone up, check all of my social media feeds and play Candy Crush, so I can't say I'm surprised.
Citations: Your Cell Phone Is Distracting You Even If Youre Trying to Ignore It (NY Mag)