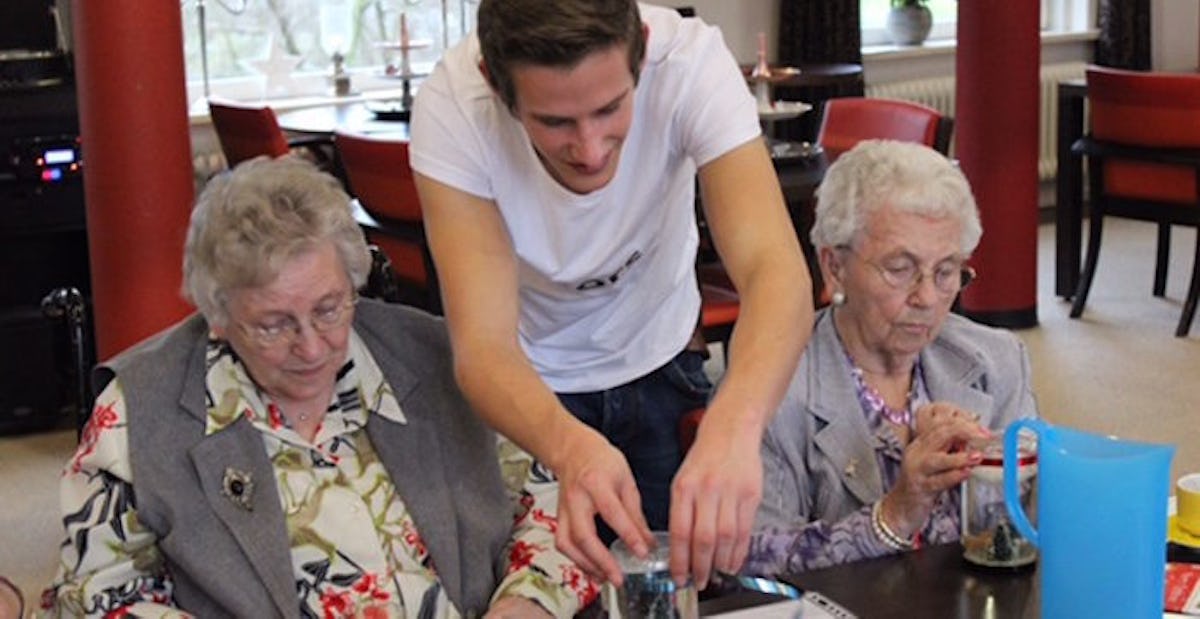 Retirement Home Offers Students Free Housing For Befriending The Elderly
Humanitas Retirement Home
The key to staying young is hanging with a youthful crowd. For the 160 residents of Netherlands' Humanitas retirement home, it's easy: Their neighbors are students.
PBS News Hour reports the Deventer retirement home has been inviting young people to live rent-free for the last two years, provided they spend at least 30 hours a month hanging out with their neighbors.
Suggested activities include anything from watching a game on television to sitting with a senior citizen who's feeling under the weather.
Students from nearby universities Windesheim and Saxion save money and avoid poorly-kept campus housing, and Humanitas residents feel as if they're young and sprightly once more. Presently, six young adults call the retirement facility home.
Ireland's The Journal even recounts a particularly memorable day when a student took a group of curious senior citizens outside with a few cans of spray paint, to learn about graffiti, and try their hand at being Banksy for an afternoon.
Residence head Gea Sijpkes told The Journal, retirement homes don't have to be a place for sadness, explaining,
When you're 96 years old with a knee problem, well, the knee isn't going to get any better, the doctors can't do much. But what we can do is create an environment where you forget about the painful knee.
Humanitas isn't the only organization to pair the old and young in a shared living community. In 2008, the New York Times reported how New York City also has their own senior citizen home sharing system, available to local students.
Rather than spending their golden years alone, these lucky senior citizens are hip with the kids.
Citations: Dutch nursing home offers rent-free housing to students (PBS News Hour)