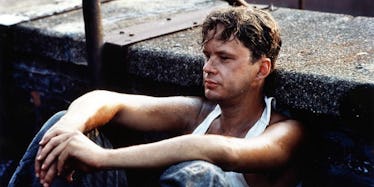 Real-Life 'Shawshank' Prisoner Is Caught After 56 Years On The Run
Columbia Pictures
This next story is straight out of the movies. More specifically, it's almost like "The Shawshank Redemption" came to life.
A 79-year-old man has been arrested 56 years after he escaped from prison.
Frank Freshwaters was going by the alias William Harold Cox when US marshals apprehended him in Melbourne, Florida on Monday.
In 1957, when Freshwaters was 20 years old, he hit and killed a pedestrian with his car in Ohio.
He was sentenced to 20 years in prison for his crime.
However, his sentence was suspended and he eluded jailtime. But two years later, Freshwaters violated the terms of his probation by driving a car and was sent to the Ohio State Reformatory.
In a strange twist of irony, scenes from "The Shawshank Redemption" were shot in the reformatory where Freshwaters did time.
Soon after being sent to the reformatory, Freshwaters was reportedly transferred to an "honor camp" and then went missing in the fall of 1959.
Since then, Freshwaters had been living on the lam (he allegedly did, however, have a couple of run-ins with the law). He was somehow able to get an ID and a social security card.
He even worked for the West Virginia state government for a time.
About 56 years after Freshwaters escaped, a deputy marshal decided to reopen his case. Freshwaters was tracked down, and US marshals staked out his mobile home for a week before arresting him.
Freshwaters didn't put up much of a fight and came clean after being confronted.
Now, Freshwaters will be extradited to Ohio where he may be forced to serve the remaining 18 years on his sentence for the manslaughter he was convicted of all those years ago.
Citations: Shawshank prison escape ends years later with cinematic stakeout (Washington Post)