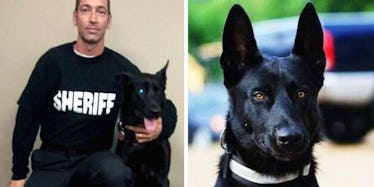 Police Dog Saves Human Partner After He Was Ambushed By 3 Suspects
Hancock County Sheriffs Office
A police dog saved his partner's life when he took on three men staging an ambush.
According to The Clarion-Ledger, Deputy Todd Frazier pulled into an empty rest stop in Pearlington, Mississippi on Monday after noticing a suspicious vehicle sitting idly.
The car's lights were off and the driver was not moving.
Frazier went to check on the driver and was attacked by two men waiting in the woods nearby.
The driver then got out to help the assailants.
When speaking of the attackers, Sheriff Ricky Adam of the Hancock County Sheriff's Department told ABC News,
One cut [Frazier] across the forehead with a razor, one choked him and one grabbed his legs to carry him to the edge of the woods.
Sheriff Adam said the three told Frazier they were going to slit his throat.
But Frazier was able to press a button on his keychain to open the door to his squad car.
Waiting in the car was his K-9 sidekick, a Belgian Malinois named Lucas.
The dog bit at least one of the attackers.
Sheriff Adam told The Clarion-Ledger, they didn't "know how many [Lucas] got," but "he had blood all over him."
Lucas' jaw was clamped onto the leg of one attacker as the three attackers began to drive away.
The dog suffered a few chipped teeth and a bruised shoulder while the deputy escaped with some bruises and a cut on his forehead.
Frazier was taken to the hospital and released the following morning.
Sheriff Adam calls Frazier "an excellent dog handler" and says he provided all of Lucas' training.
The three men are still at large.
Citations: Police Dog Rescues Deputy After Hes Ambushed By 3 Men (ABC News), K9 saves Hancock County deputy from ambush attack (The Clarion-Ledger)