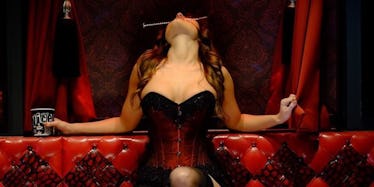 There's Now A Pleasure-Enhancing Ice Cream Laced With 'Female Viagra'
The Licktators
Thanks to The Licktators, you don't need to slurp down oysters to rev up your sexual engine this Valentine's Day. A pint of ice cream will do the trick.
Just in time for the sexy holiday, the UK-based dessert company rolled out Vice Cream, an ice cream designed specifically to "give women's sexual appetites a deliciously natural boost."
The sweet treat is formulated with Ecuadorian chocolate -- a natural aphrodisiac that stimulates serotonin production -- and laced with Lady Prelox, a newly approved sexual enhancement pill for women in the UK.
Also known as the "female Viagra," the all-natural Lady Prelox formula features a special French pine tree extract which encourages blood flow down south.
The increase in blood flow both stimulates the female libido and increases sexual pleasure, as indicated by two separate clinical studies in which the pill was tested on female volunteers.
Why ice cream? According to Miss Whiplash, head of The Licktators' so-called Whipping Room,
For many women, eating chocolate ice cream is already a sensual experience. So we thought, why not turn the volume up to 11 and give all the lovely ladies out there a big, raunchy boost.
So this Valentine's Day, bring a pint to bed, and get ready for an all-night Netflix sex marathon -- whipped cream optional.
Vice Cream is only available to women over 18.
Vice Cream's ad campaign -- very "Fifty Shades."
Notice the woman's "whip" is actually a spoon.
Finally: You can have your dessert and eat it, too.
Citations: Vice Cream The Licktators Female Viagra Based Ice Cream Will Help You Hit The Spot (Metro Uk ), The Licktators Female Viagra Hits Shelves In Time For Valentines Day (Daily Mail UK )