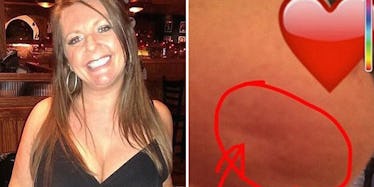 Woman With Breast Cancer Bravely Posted Photo That Could Save Your Life
Facebook
Most women know the obvious symptoms of breast cancer, like finding a lump in the breast or rapid changes in size or shape.
But, there are some more subtle symptoms that can be just as important to making a breast cancer diagnosis, and one mother recently shared a photograph of her breast on Facebook this week to alert others to the signs.
The picture shows a slight dimple on the underside of Lisa Royle's left breast.
The 42-year-old mother shared the photo last week before getting a mastectomy; since then, it's been shared tens of thousands of times.
Captioning the photo, Royle wrote,
OK so I never thought I'd post a boob picture on Facebook but I thought I would before it gets chopped off next week. So here it is…. This is all I found on my boob. Very subtle dimples underneath that could easily be missed when we're all rushing round getting ready in a morning. Please take time to look at your boobs. It could save you[r] life.
Her post received a staggering amount of support, and Royle received praise from various organizations, including the Breast Cancer Care charity.
Jackie Harris, a spokesperson for Breast Cancer Care, said,
As Lisa bravely shows, signs and symptoms of breast cancer aren't just about a lump… Getting the message out there about reporting signs and symptoms of breast cancer early is crucial. We welcome anything that helps raise awareness as this information can potentially save lives.
Royle's sister, Claire Osmond, set up a Share A Gift fundraiser page to pay for medical care, a wig, post-op bras and a Florida vacation for the strong, deserving mother.
Ladies, remember to check your breasts once a month and visit the doctor if anything seems odd. With cancer, it's much better to be safe than sorry.
Citations: Breast cancer patient Lisa Royles Facebook photo of dimple on breast (Daily Mail )