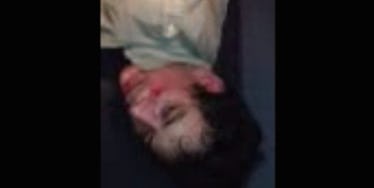 Three Flight Passengers Take Man Down As He Runs Toward Cockpit (Video)
A United Airlines flight was forced to return to its departing airport after a male passenger ran toward the cockpit and allegedly yelled about jihadists.
The plane, which was carrying 33 passengers and six crew members, left Dulles International Airport en route to Denver at 10:15 Monday night.
At about 10:40 pm, the man made a dash for the cockpit before being restrained by three male passengers, according to the Washington Post.
He was tackled in the front area of the plane where flight attendants sit during the flight.
A passenger named Donna Tillam said the man claimed Islamic extremists were on board as he was held down.
According to ABC News, she said,
One held his feet and the other one kind of laid on top of him and then the flight attendants went and got some plastic restraints for his arms. At one point when his head was down he said there were jihadists in the cargo hold and he did say jihad a couple times.
Video of the incident appears to show the passenger repeatedly saying "I'm sorry" while moaning in pain before being taken off the plane near Washington, DC.
The men who restrained him allegedly said, "Take off his shoes, check for bombs," the Washington Post reports.
No one was hurt and no weapons were found on the plane.
The passenger was detained by law enforcement officers and taken to a hospital for an evaluation.
A spokesperson for Dulles International Airport told the Post in an email that he "has not been charged at this time."
The plane resumed its flight to Denver by 12:45 am on Tuesday.
Citations: United Airlines Flight Returns to Washington DC Airport After Passenger Runs Toward Cockpit (ABC News), Scariest moment as passenger subdued after cockpit dash (The Washington Post), Jet returns to Dulles after passenger disregards instructions from the crew (The Washington Post)