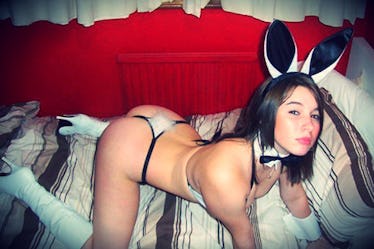 Parents Find Man Having Sex With Their 15-Year-Old Daughter, Put Him In Headlock Until Police Came
A mother checking up on her daughter before bedtime was shocked to discover a man having sex with the 15-year-old after sneaking into their Houston home, but rather than panic, the woman took matters into her own hands. 
After catching the intruder in the girl's bedroom, the mother and the girl's stepfather detained the man until police arrived and hauled him away in handcuffs. 
The suspect, 21-year-old Carlos Narvaez, of Houston, Texas, has been arrested and charged with sexually assaulting the 15-year-old girl whom he met on a gaming site.
According to the girl's parents, Narvaez was caught 'in the act' when the teen's mother walked into her room for a late-night check-up. 
The unnamed woman told KHOU 11 that when she turned on the light in the bedroom, the startled 21-year-old man tried to flee, but she informed him that he's not going anywhere.
The woman alerted her husband, the girl's stepfather, who rushed to her aid and put the suspected child molester in a headlock until police arrived.
Narvaez, a Mexican national, was booked into the Harris County Jail on a charge of sexual assault of a child. He is being held on $35,000 bail.
The victim's parents said they discovered that their daughter met Narvaez on a mobile gaming site called MocoSpace, and the two had been communicating for about two weeks before meeting in person in the girl's room for a tryst.
According to the parents, they were under the impression that the 15-year-old was watching movies on her laptop and had no idea that she was talking to men online. 
In the aftermath of the incident, the girl has lost her Internet privileges indefinitely.
This is not the first time that MocoSpace, a leading online gaming network with 22 million users, has been in the news in connection to sexual crimes.
Between last December and April of this year, three women claimed to have been sexually assaulted by men they met on the site in three separate incidents, the Huffington Post reported. 
In one case, a 20-year-old woman met a man in the parking lot of a Detroit bar after talking to him on MocoSpace. She got into his van, and he allegedly drove her to a secluded location and sexually assaulted her.
In another incident that happened in Detroit in early April, a 23-year-old woman was raped by a man she met on the gaming site while being threatened with a weapon.
A similar crime took place in December when an armed suspect assaulted a 32-year-old woman in a vacant building. The victim told police the two had been communicating on MocoSpace.
In a case similar to Narvaez's, Raymundo Aranda-Parra, 33, of Suffolk, Virginia, was charged with having consensual intercourse with a 14-year-old girl he met on MocoSpace last August, according to the Suffolk News Herald.  
Stephen Willard | Elite.